It's almost time for Halloween!
That special time of year when we celebrate all things spooky and fill our faces with sweets (and we're not just talking about kids either!) is upon us.
As usual, Liverpool will be jam packed with great events featuring something for all ages, in the city centre and beyond.
Want to get the kids involved in the fun? There are plenty of fabulous inclusive parties for the little ones to enjoy and family themed attractions to take advantage of.
Like a good scare? Enjoy one of the many spine tingling interactive events taking place.
Fancy letting your hair down? Indulge in one of the man after hours celebrations happening over the weekend.
Liverpool has got you covered!
Base Serviced Apartments has picked out the best of the bunch with this year's Halloween preview, covering all the must attend events in Liverpool's City Centre and beyond.
The Chamber of Horrors
St George's Hall, Liverpool
Monday 24th – Monday 31st October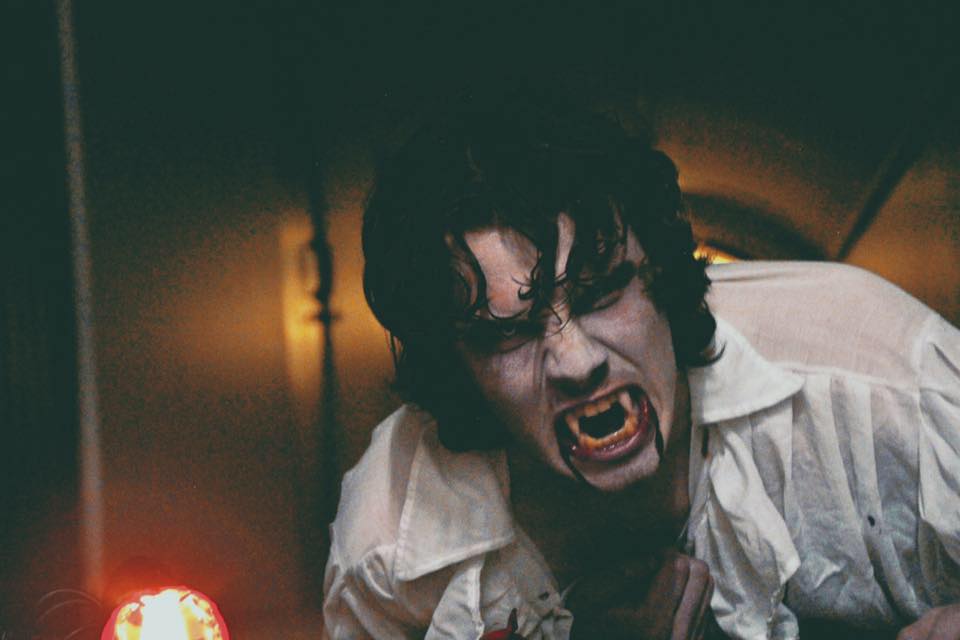 St George's Hall will be getting a make over this Halloween!
For one week only, Liverpool's most imposing building will play host to "The Chamber of Horrors", where visitors will be taken on a bone chilling journey through the cold, dark passage ways and eerie cells of the Hall, encountering those who walk between this world and the next.
LoveHistory Loves Horror's production looks to be a top notch attraction this Halloween, with the company working alongside special effects experts Savage SFX in order to transform this iconic Liverpool tourist attraction into a nightmarish home of the dead.
Inspired by a century of horror genres from classic's like Hammer House to more recent gems such as  The Devil's Rejects, hardcore horror fans will be in for the night of their lives when this scare attraction comes to Liverpool.
Due to the nature of this attraction, attendees must be strictly 16+.
Tickets can be purchased online.
Shiverpool
Liverpool City Centre *location varies on specific tour
27th  – 31st October (dates are subject to availability of specific tour)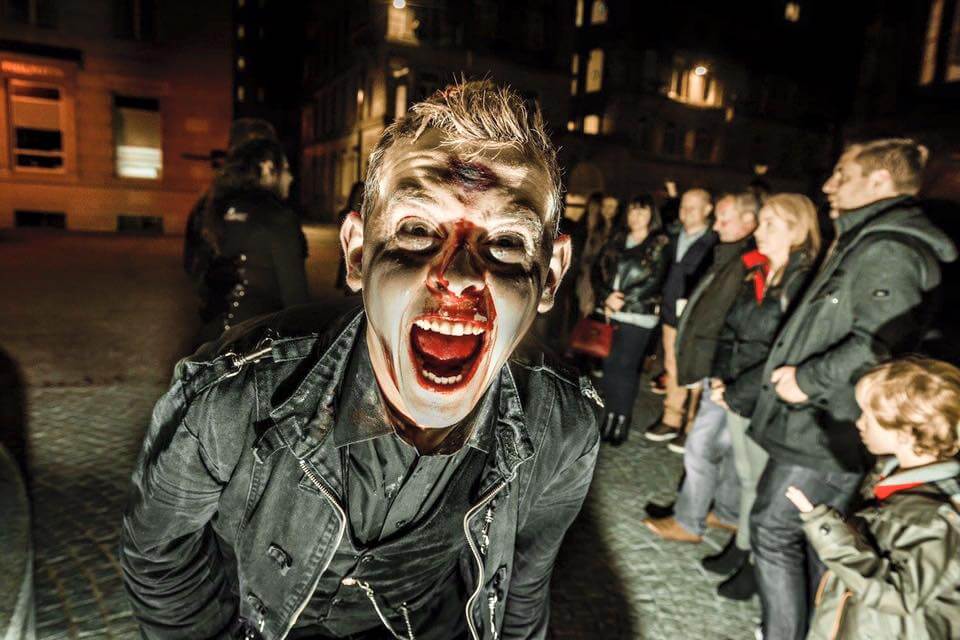 Our next highlight comes in the form of an old regular in Shiverpool – Liverpool's Masters of Macabre!
Inspired by the penny dreadful's of old, this multi-award winning street theatre experience simply has to be seen to be believed, with a full schedule of three different city tours to choose from.
Taking place in the Cathedral Quarter of Hope Street is Hope Street Shivers – Liverpool's original and most famous historic ghost walk. Popular with groups of all ages, discover Liverpool's most famous ghastly and grisly history on a journey ending at the awe inspiring Gothic Anglican Cathedral.
Explore Liverpool's seven original streets and it's ghostly medieval past with Auld Street Shivers. Be entertained by a captivating theatrical performance bringing Liverpool's grisly history to life and finish with a  journey 40ft beneath the streets to a very special location into the underbelly of Auld Liverpool, exclusive to Shiverpool.
And finally, we have Shiver Ghost Bus tours – a fact filled, nicely chilled 90 minute show on board a historic vintage bus,
Whether you are looking for a fun filled activity with family or friends or even if you're entertaining corporate clients for a private event – Shiverpool has got you covered this Halloween.
Tickets can be purchased online.
Captial's Monster Mash Up
Liverpool Guild of Students
Thursday 27th  October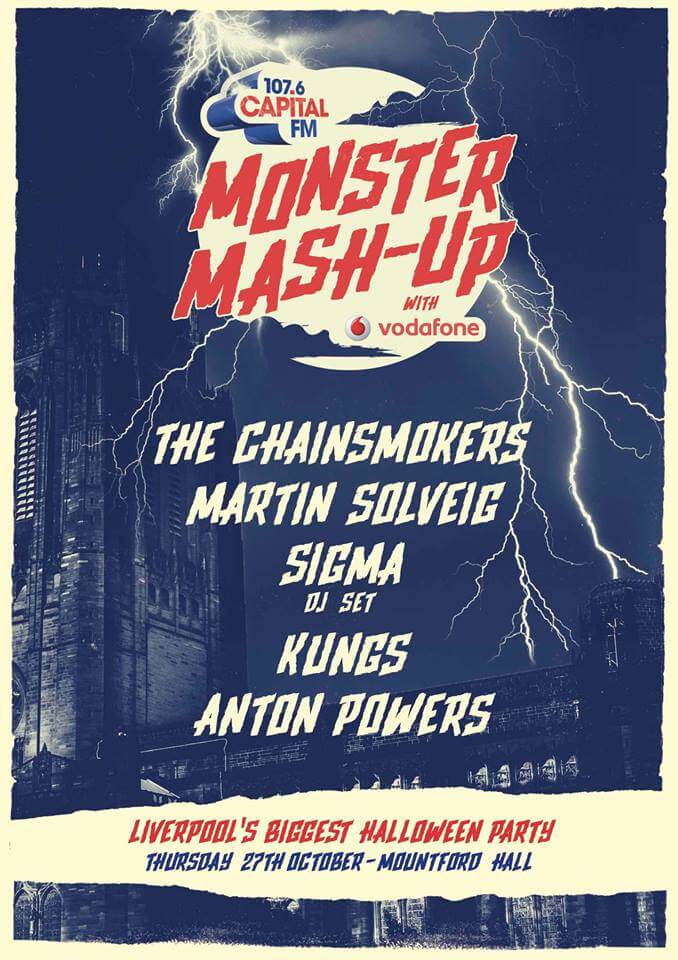 Capital FM alongside Vodafone will be hitting up three of the UK's biggest cities bringing with them their Monster Mashup parties – and one of those cities, is Liverpool.
Kicking off the spookiest time of the year with an exclusive gig at Mountford Hall, Captial's Monster Mashup will feature sets from The Chainsmokers, Martin Solveig and a DJ set from Sigma (fresh from a triumphant headline set at this year's Liverpool International Music Festival in June).
Fancy dress is encouraged, so get involved and join the fun!
We previously mentioned Capital's Monster Mash Up in our October Preview blog.
Ticket information can be found online.
John Carpenter – The Master of Horror Live
Liverpool Olympia
Friday 28th October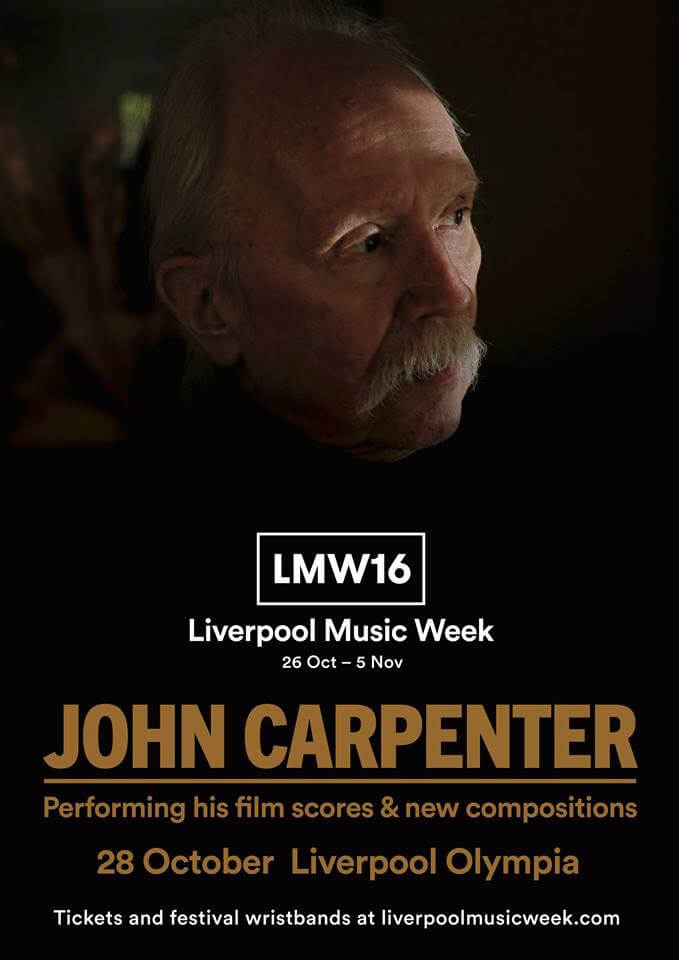 One of the most anticipated live performances this Halloween in Liverpool comes from none other than the Master of Horror himself – John Carpenter.
The legendary film maker has helped shape the horror film genre with some of the most iconic horror flicks of all time including "Halloween" – arguably the first ever slasher movie and his iconic remake of "The Thing", which displayed ground breaking special effects.
Carpenter is also proficient in the art of film scores and a musician in his own right. He will be performing some of these iconic compositions live at Liverpool Olympia this upcoming Halloween weekend, in addition to brand new material.
John Carpenter's performance is part of Liverpool's International Music week, which we had talked about previously in our October Preview blog.
Frankenstein (Play)
Liverpool Everyman Theatre
Friday 28th – Saturday 29th October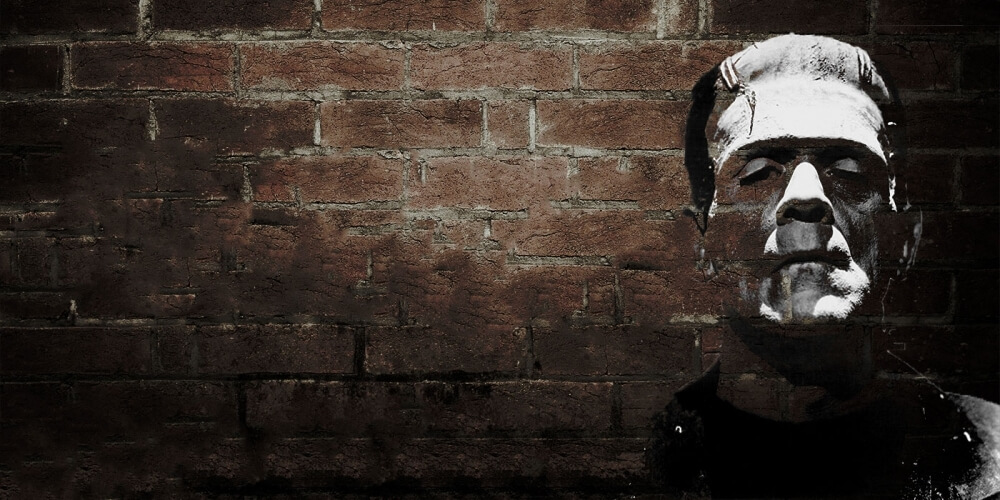 Young Everyman Playhouse (YEP) have produced a new version of the classic horror story Frankenstein.
One of the most influential horror tales of all time, the Mary Shelley classic has spawned a whole genre of horror stories, films and plays.
YEP Director Ellie Hurt will lead a collection of young talent this October with her retelling of the classic story performed at the Everyman Theatre as part of the Liverpool Literary Festival.
A great event for families or lovers of the theatre; tickets can be purchased online.
Awakening Pure Evil
Make. Warehouse, Liverpool
Friday 28th – Monday 31st October

It wouldn't be Halloween without a classic Haunted House now would it?
Are you looking for something really scary this Halloween? Head to Make. Warehouse in Liverpool's North Dock, mere footsteps away from the iconic former home of the Heritage Market and experience: "Awakening Pure Evil".
A realm where the Gates of Hell have flung open and spewed forth the most horrible abominations, hell bent on destroying everything in their sight. This is a very personal style of horror entertainment for your ultimate enjoyment. You might get touched and you might get wet, so safety in numbers is your best protection.
This event is not recommended for children under 15 years, pregnant women, epilepsy sufferers or anybody with an existing heart condition.
If you survive the horrors that await you can, why not relax and compose yourself in their bar with live entertainment and grab a bite to eat from our hot food section.
The Scare Witch Project

Croxteth Park
Friday 28th – Sunday 30th October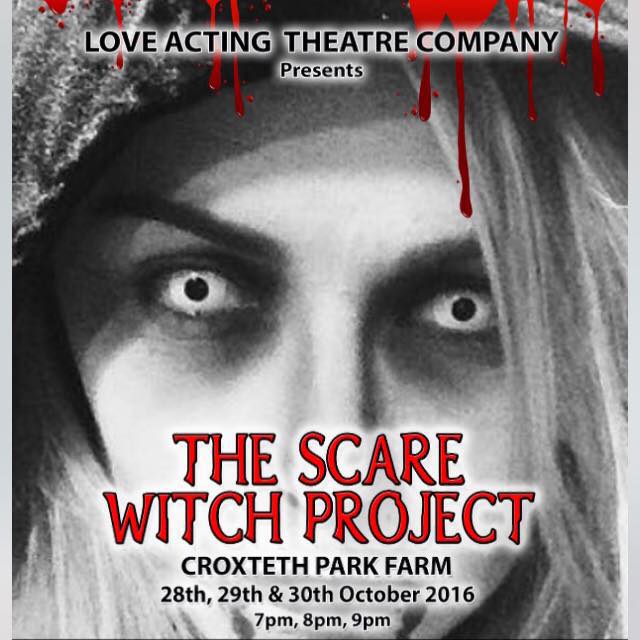 Do you dare come and meet the Witch of Croxteth Park woods and the tortured souls that reside there?
A frightfully good evening is promised for the brave few who venture down to Croxteth Park Farm this October. The Scare Witch Project is a brand new project this Halloween coming from Love Acting Theatre Company.
Due to the nature of this interactive event, all attendees must be of the age of 16.
Tickets are available online via Eventbrite.
Halloween Weekend Double Bill
The Grand Central Hall, Liverpool
Friday 28th – Monday 31st October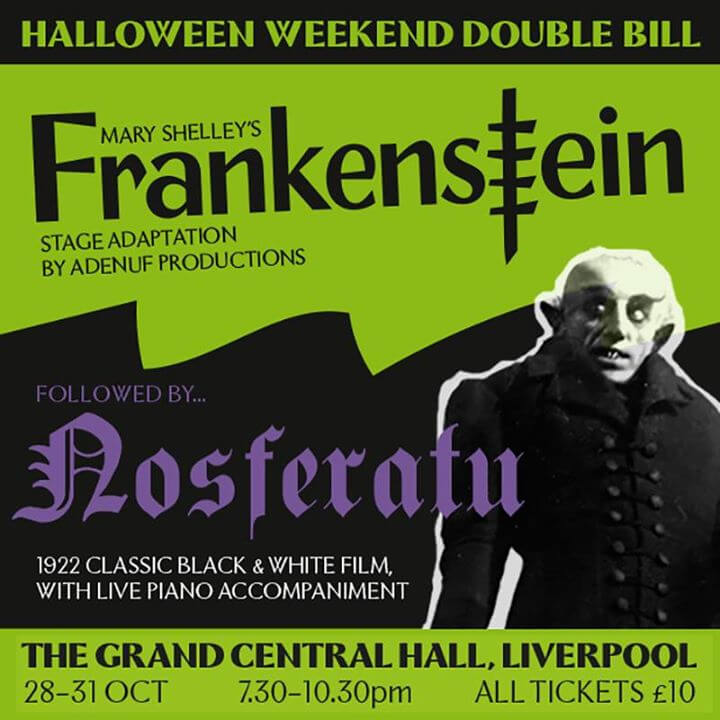 Grand Central Hall will be hosting a special fusion of theatre and film this Halloween.
It will begin with a stage adaption of Frankenstein by Adenuf Productions, followed by the 1922 classic black and white horror film Nosferatu – complete with live piano accompanied.
This event is suitable for all, starting at 7:30pm and finishing at 10:30pm.
Tickets available online for just £10.
Cult Horror Double Bill
FACT, Liverpool
The Mummy
Friday 29th October
The Omen
Sunday 30th October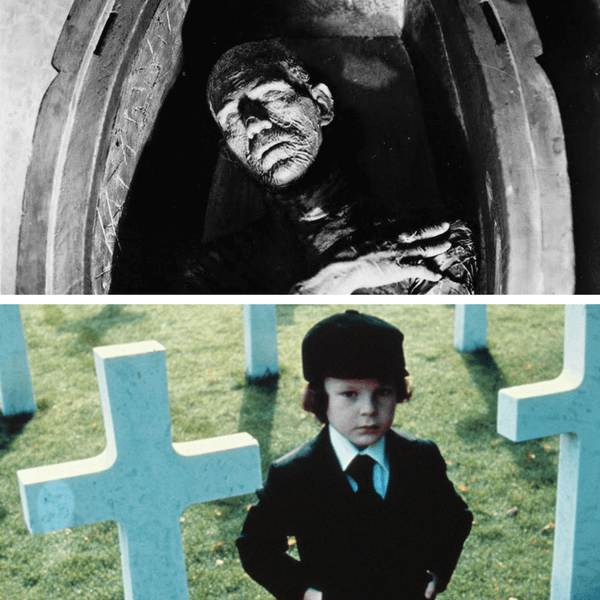 Film fans are in for a treat this Halloween in Liverpool with not one, but two classic Horror films screening especially for the weekend.
First up with have 1932 pre-code horror film The Mummy, staring horror icon Boris Karloff – one for fans of classic horror cinema. The Mummy will be screening at FACT Liverpool on Friday 29th October.
While on Sunday 30th October, FACT will be screening the 1976 classic horror film The Omen.
Tickets for both films are available online.
Cocoon at the Asylum
Newsham Park Orphange and Asylum, Liverpool
Saturday 29th  October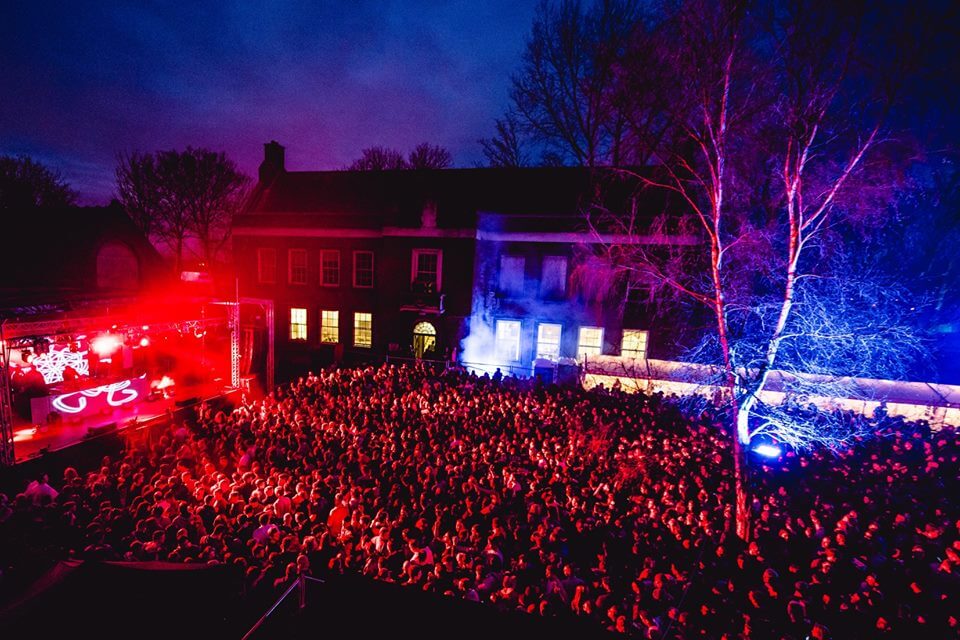 Cocoon will once again let the inmates run the asylum this October!
One of the highlights of the Halloween weekend in Liverpool,  Cocoon will be transforming the desolate Newsham Park Orphanage and Asylum into a rave ready spectacle.
Created by Liverpool clubbing institutions Freeze and Cream, last year's event brought in thousands of revellers to the previously neglected court yard for a spookily good day and night of thunderous techno.
Starting at 1pm and carrying on right until 10:30pm, this looks once again like it will be one of the most talked about events come Halloween weekend.
Cocoon at the Asylum previously featured in last year's Halloween preview blog.
Ticket information can be found online.
Wake The Dead: Halloween Parade
Liverpool City Centre
Saturday 29th October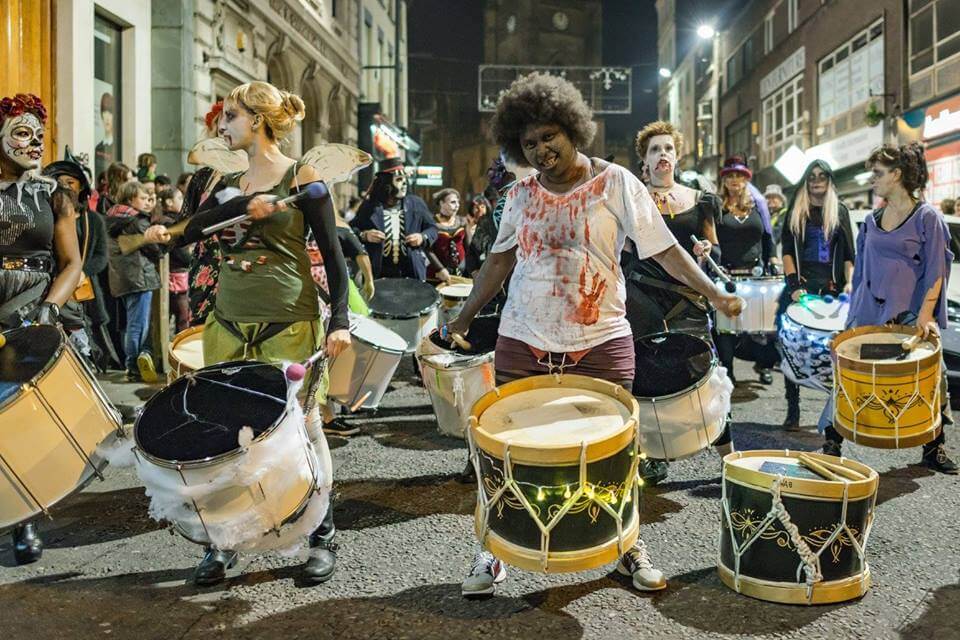 The annual "Wake The Dead" Halloween parade returns to the streets of Liverpool on Saturday 29th October.
Led by Liverpool's resident drum troupe Katumba and featuring Viva Brasil Samba Shows, The Anahi's and Capoeira For All C.I.C., the carnival of noise will commence at the top of Bold Street making it's way through the city centre.
As part of a collaboration between Rebel Soul and Katumba, the parade will run alongside The Voodoo Ball (*more on that later).
Aimed at audiences of all ages, the looks to be quite the spectacle so make sure you don't miss out!
Further information is available online.
The Voodoo Ball
The Invisible Wind Factory, Liverpool
Saturday 29th October

If a rave at an abandoned asylum doesn't sound like your cup of tea, why not pay a visit to The Voodoo Ball?
Taking place at the Invisible Wind Factory, this promises to be an unforgettable might of African dance music, drumming, fire, martial arts, face and body painting, incredible set design and much more.
Set against the futuristic landscape of a dystopian society, The Return to Afrotopia tells the story of a self-destructing world where civil order has collapsed, violence is rife and at the heart of it all is two conflicting tribes – the afroPUNKS and the afroLORDS.
File this one under something different!
The Voodoo Ball was previously included in our October Preview blog.
Further information can be found online.
Vevo Halloween
Bramley Moore Dock, Liverpool
Saturday 29th  October

Vevo Halloween is bringing all your deepest darkest fears to Bramley Moore Dock in Liverpool.
Taking place during the Halloween weekend, Vevo Halloween 2016 will be featuring full live performances from some of the countries up and coming artists including: Jack Garratt, Blossoms, Izzy Bizu, Aurora and final guest, Zara Larsson.
With this year's Sound City already rocking Bramley Moore Dock, this looks to be yet another gem for music lovers.
Vevo Halloween was previously included in our October Preview blog.
Ticket information is available online .
Unlock Liverpool: The Joker's Crypt
23 Fleet Street, Liverpool
Saturday 29th October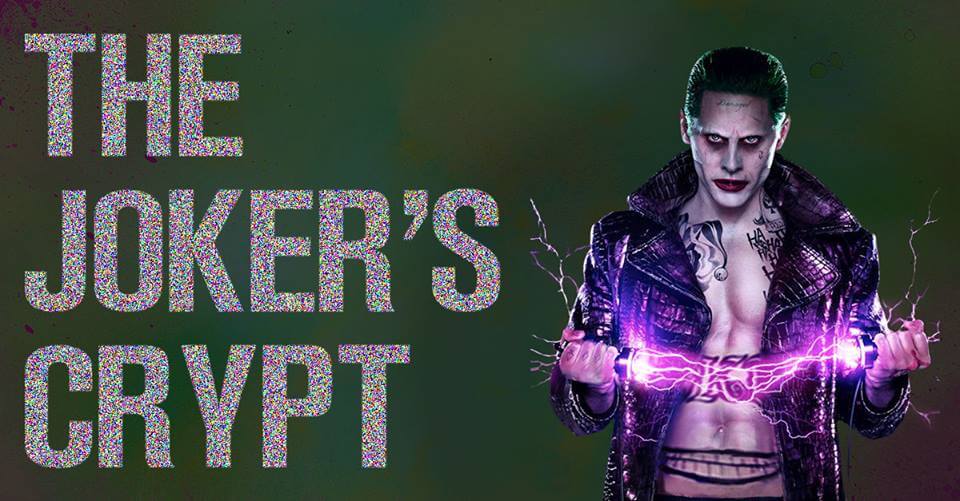 With the success of the summer comic book flick "Suicide Squad", it's a no brainer that DC's latest film will be dominating Halloween this year.
Unlock Liverpool are jumping on board with the trend, bringing Halloween revellers "The Joker's Crypt". Mr J himself will be waiting to escort you down into his smoky nightclub at 23 Fleet Street, where you can help yourself to sweets, candyfloss and toffee apples. Beware however, The Joker enjoys playing games with his guests so be alert, not everything will be as it seems!
Expect an exclusive burlesque performance from the Joker's right hand lady, Harley Quinn and other appearances from the rest of the Suicide Squad's cast of misfits, as you party the night away until the early hours of the morning with a room full of murderers, tricksters and psycho's – all in the name of Halloween.
A frightfully good night out for those looking to enjoy Liverpool's nightlife this Halloween – all guests must be over the age of 18 to attend.
Tickets can be purchased online.
Spooktastic Halloween Family Parties
Croxteth Hall, Liverpool
Sunday 30th – Monday  31st October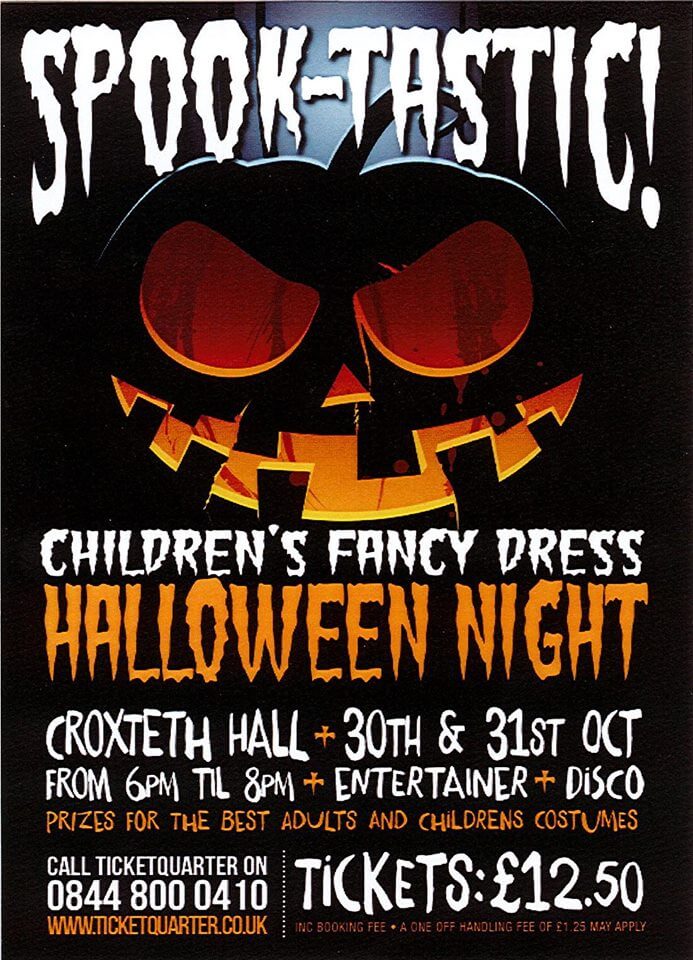 Something for the family to enjoy in Liverpool is Croxteth Hall's Spooktastic Halloween Parties.
With a disco and children's entertainment to keep the little ones happy during the party, this is a great alternative for families looking for big on fun but small on scares. All your little monsters will receive a free goody bag, as well as snacks and refreshments served at the venue.
There will also be Adult's and Children Competitions with special prizes for the Best Halloween Costumes.
Tickets can be purchased online.
Halloween Film Festival – Independent Liverpool
Newsham Park Orphange and Asylum, Liverpool
Sunday 30th October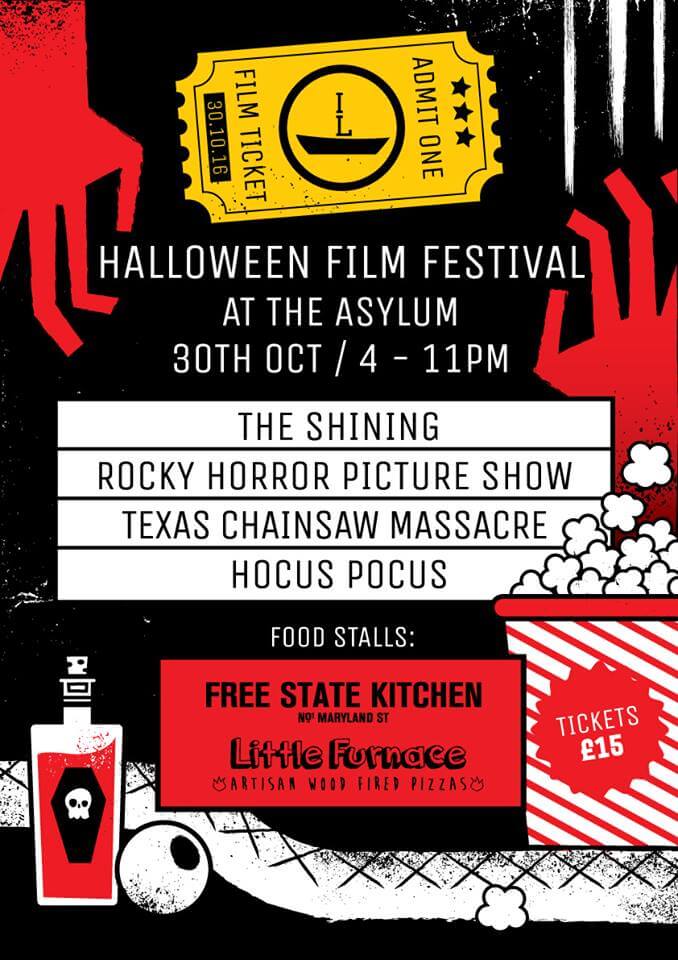 There will be not one but two great events taking place at the Newsham Park Abandoned Hospital this Halloween.
Independent Liverpool will be taking over the spooky venue with a very special Halloween Film Festival, featuring a line up of fantastic flicks for your enjoyment in a truly unique (not to mention appropriate) location.
Get your fishnet stockings out for Rocky Horror Picture show, prepare to jump at Texas Chainsaw Massacre, get nostalgic whilst watching Hocus Pocus and scream with terror at The Shining.  Each film will be played in synch with a strobe lighting system, offering incredible effects for the extra scary parts.
Be warned, as it is Halloween there will be plenty of unsavoury characters roaming the dark corners, ready to scare you at any point!
There will also be a selection of great local Liverpool eateries present at the event such as Free State Kitchen serving up boneless buckets mothered in a Buffalo blood sauce and Little Furnace offering a scarily good wood fired pizza, not to mention plenty of witches brews and Halloween punch to help wet your whistle.
This event is strictly for over 18's so leave the kids at home for this one; Tickets are available online.
Howl'Oween Puppy Parade
Liverpool City Centre (Starting at Brewdog, 8 Colquitt Street)
Sunday 30th October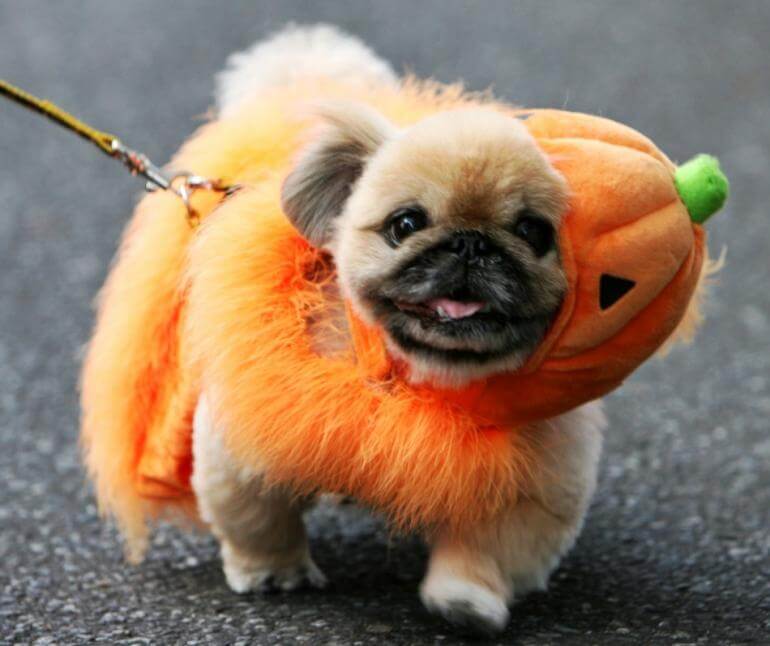 From all this talk of Haunted Houses and Evil Witches, you might be looking for something a little lighter this Halloween.
Well look no further than the Annual Howel'OWeen Puppy Parade!
On Sunday 30th October, BrewDog Liverpool and Pug Pride Liverpool are teaming up again to put on a special event featuring dogs of all shapes and sizes parading around Liverpool's City Centre in their best Halloween Costumes.
The event is in aid of Merseyside Dogs Home and Pug Muffin Rescue and there will be a chance to make donations on the day.
Further information is available online.
Psycho: Film with Live Orchestra
Liverpool Philharmonic Hall
Monday 31st  October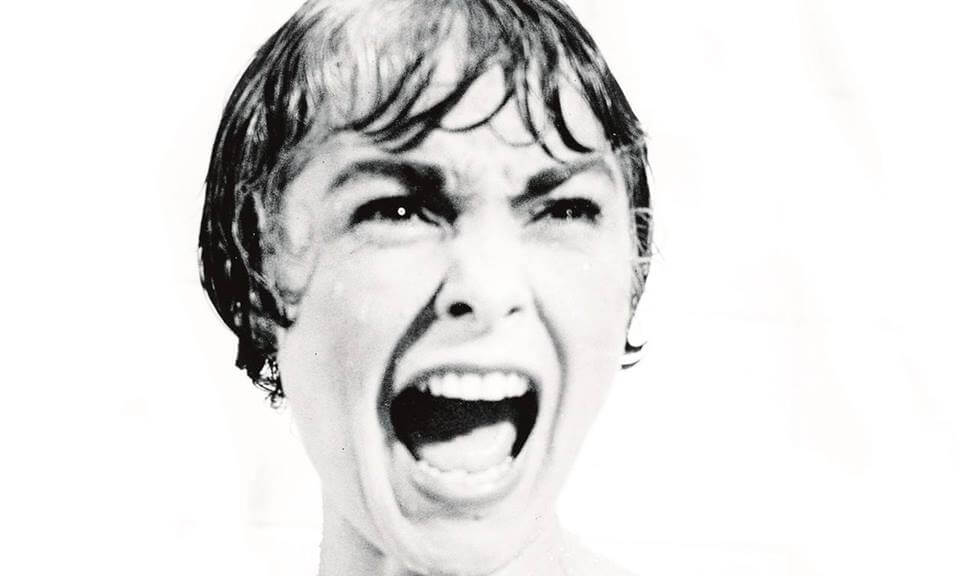 A very special event is taking place this Halloween at Liverpool Philharmonic Hall.
Alfred Hitchcock's masterpiece Psycho will be treated to a big-screen screening at the art-deco Hall along with Hermann's pulse raising score performed live by the Royal Liverpool Philharmonic Orchestra.
This is sure to be a treat for both film and classical music fans, make sure you don't miss out!
We had previously included this event as part of our October Preview blog.
Ticket information is available online.
Bongo's Bingo: Halloween Special
Camp and Furnace, Liverpool
Monday 31st October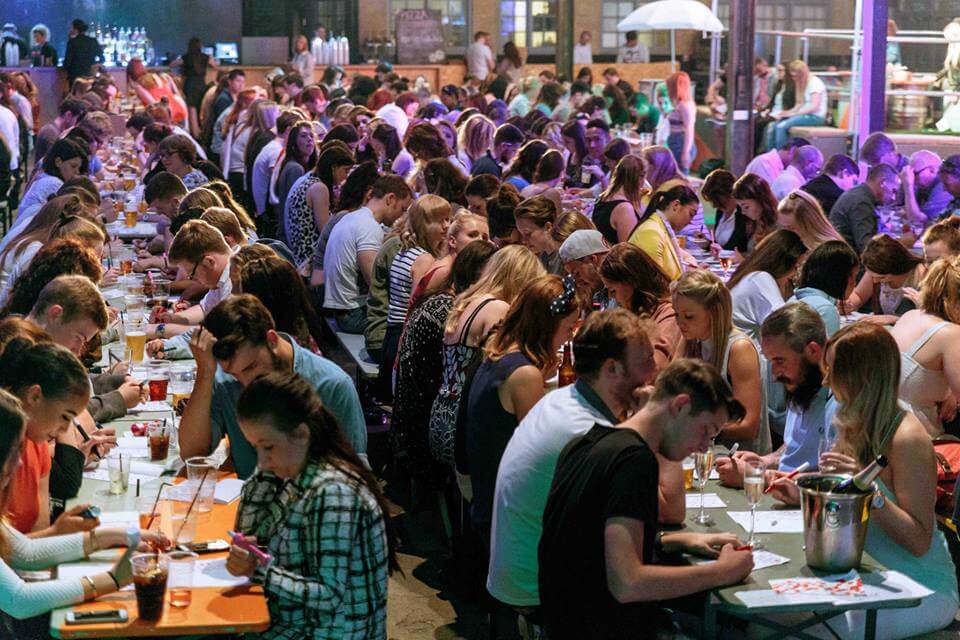 If you fancy something a little bit different this Halloween, why not take advantage of an evening of Bongo's Bingo.
Quickly becoming a cult favourite in Liverpool, Jonny Bongo hosts the most outrageous bingo known to man at Camp and Furnace. Expect impromptu raves, dance offs and prizes so bad they're good. Bongo's Bingo turns a predisposed evening of bingo on its head and we promise you that you'll love every second.
There will be a special evening of Bongo's Bingo for Halloween, so expect this one to be extra popular.
Be warned, this one will sell out fast so make sure you get your ticket while you can!
Halloween Children's Party with Jumping Jacks
Sefton Park Palm House, Liverpool
Monday 31st October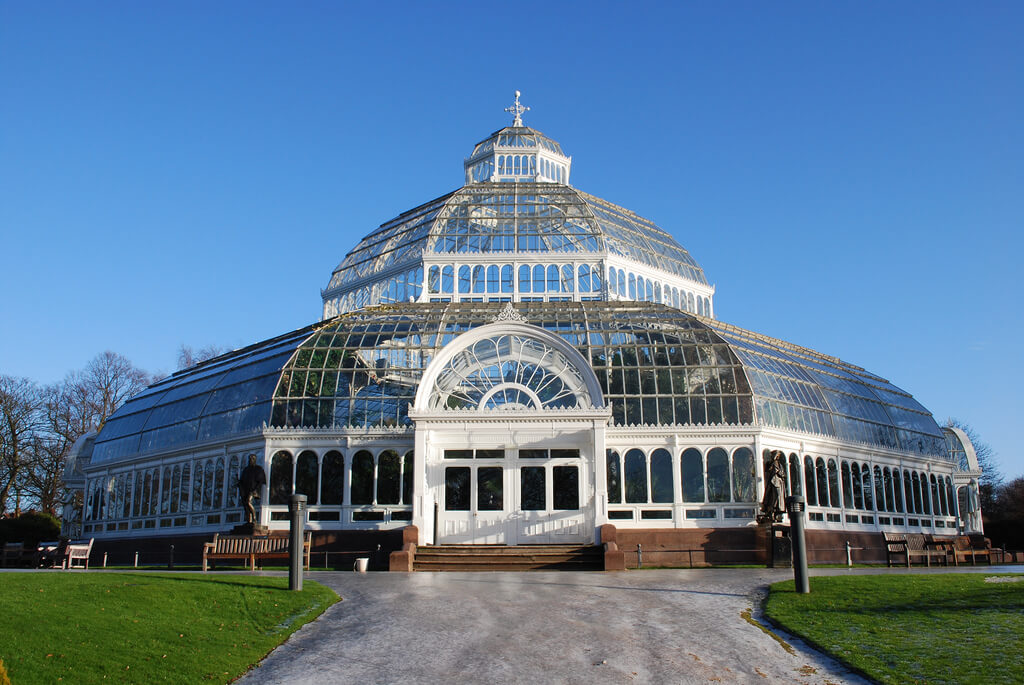 Rounding off our October Preview blog is something for the little ones as the Jumping Jacks will be hosting a special Halloween party at Sefton Palm House.
Aimed at babies, toddlers and children up to 8, there will be lots of spooky fun and games for all to enjoy as well as special appearances from some of your children's favourite characters.
If you're looking to treat your little monster this Halloween, look no further!
We included Jumping Jacks in our October Preview blog.
Further information can be found online.
Shush Silent Disco Halloween Spooky Spectacular
Liverpool Central Library
Monday 31st October

Following the success of Shush Silent Disco's takeover of Liverpool Central Library at this year's Light Night, they will be back at the historic building once again – with a spooky twist!
Aimed at families as well as party goes, grab a headphone and get dancing this Halloween with three channels to choose form to help you dance the night away. Bored of the kids channel? No problem, switch over to the next one and keep the fun going!
The event also includes extra activities to take part in including, face painters and craft tables to make your own monsters and many more.
Tickets are available online.
Honourable mentions
While Liverpool has lots of great Halloween event's, if you've got the time when not go exploring further afield!
Explore further within the Liverpool City Region and see what else is happening, here's our picks of what else you can do that's just a short trip away from Liverpool!
Farmageddon
All month long
Ormskirk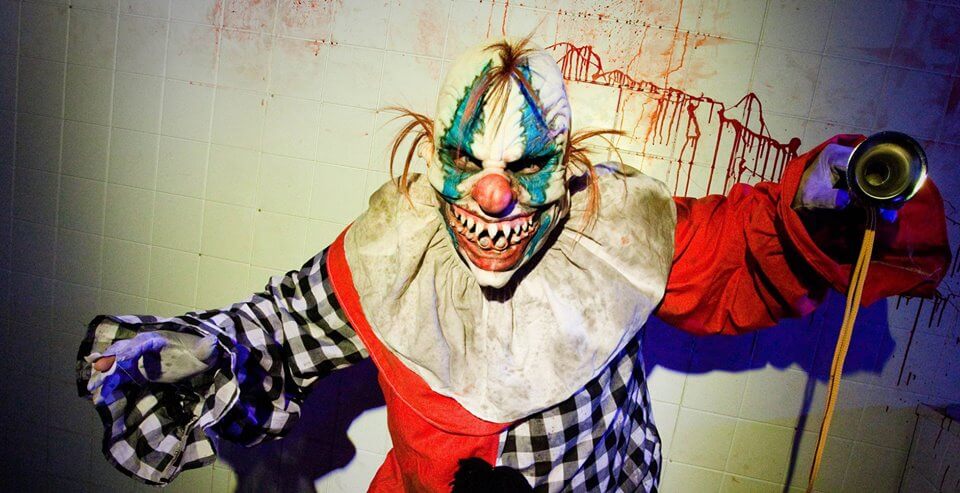 Celebrating 10 years of terror this October is Farmageddon, the North West's premier Halloween attraction.
The biggest fright night of the year will run throughout October promising visitors a shockingly fun evening.
While the event doesn't take place in Liverpool, it's a popular event with locals in the city nevertheless, in addition to the thousands that flock to Farmer Ted's every year. Such a reputation more than warrants an inclusion for our October Preview.
Featuring interactive zones for visitors to explore (each with their own theme), zombie paintballing and cast of Ghoulies and nasties ready to scare the pants off you; we'd argue that you would struggle to find a better way to get your thrills this October!
We previously featured Farmageddon as part of our October Preview blog.
Further information about this year's Farmageddon is available online.
Spookport 2016
Saturday 22nd  October – Monday 31st October
Southport (various locations)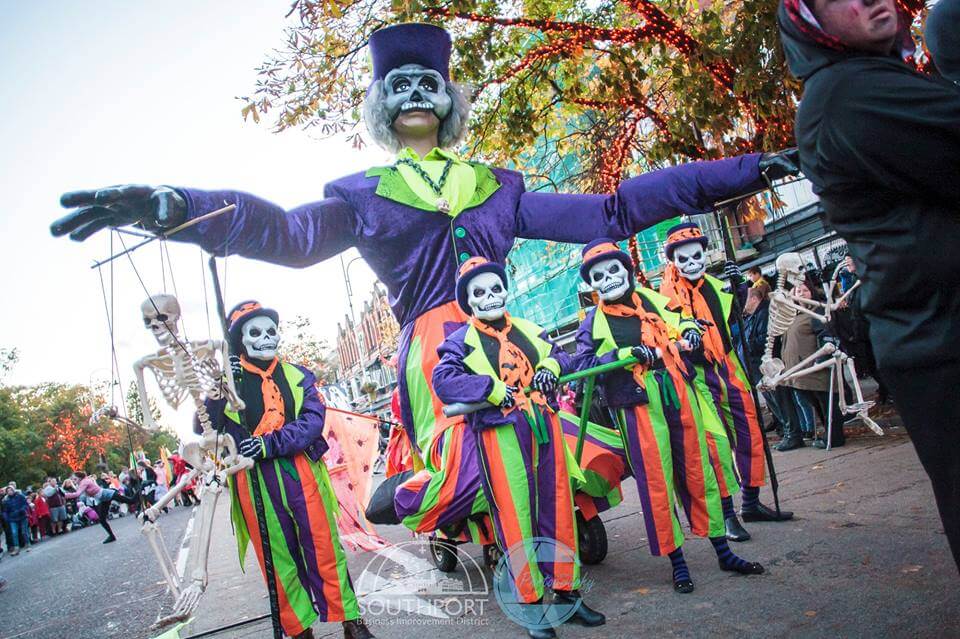 Southport's unique Halloween Festival is back for 2016, with more spooky, ghoulish goings on than ever before.
Spookport begins on Saturday 22nd October and will run right through until Halloween offering something for audiences of all ages with events throughout Southport. From Murder Mystery nights, to Burlesque shows, children's crafts and even a scarecrow festival.
Southport Pleasureland will also host it's annual Happy Halloween spectacular with a week packed full of brilliant Halloween family fun taking over the theme park.
One of the highlights of the festival will of course be the Spookport Parade, taking place on the opening day of the festival from 6;30pm. Featuring music, dancing and spectacular performances, the Spookport parade is not to be missed.
Further information about Spookport can be found online.
Darkstar – Quarantine
Friday 28th – 31st  October
St Helens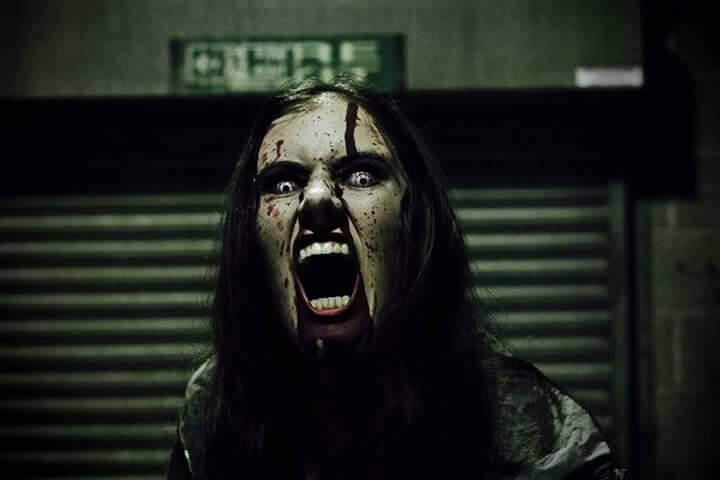 Darkstar: Ultimate Laser Arena has been placed under quarantine as the UK's largest laser arena becomes a terrifying live action horror maze.
Kicking off on Friday 28th October, all ages are welcome to the first 2016 Quarantine event with access to a themed horror area without unwanted zombies.
Those who want the real experience however will want to head up to the St Helens Laser Arena between Saturday 29th and Monday 31st October (ages 12+). Creep around the darkened labryinth, laser rifle in hand and be ready to face the unseen horrors that move within!
There will also be a free pizza buffet, exclusive drinks deals and the best costumes will be rewarded.
Ticket information can be found online.
Karnevil of Khaos
Friday 28th – 29th October
New Brighton Promenande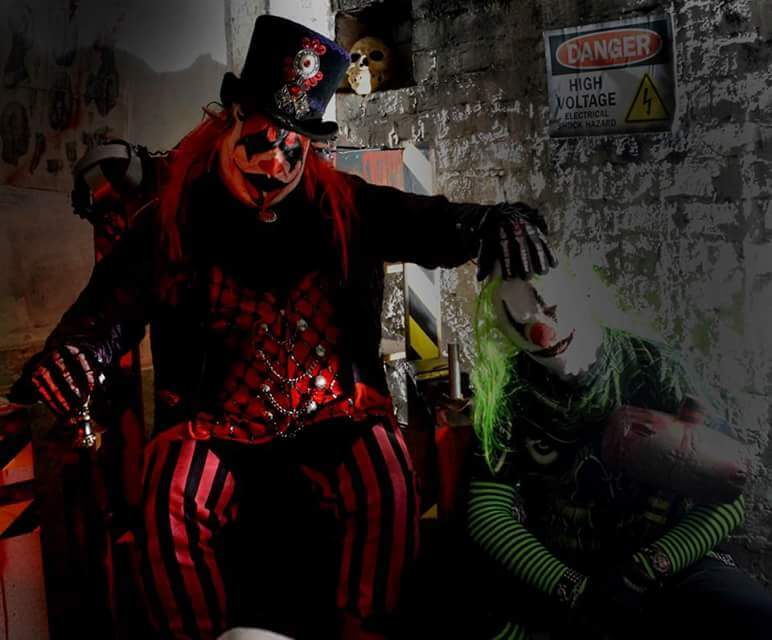 Roll up, roll up, the Karnevil is in town!
Terror 13 has come up with a new type of terror for thrill seakers this Halloween taking place at New Brighton's Promenade.
Dare you venture into the deep dark tunnels where KHAOS the Klown and his Karenvil have taken over with merry band of freaks and clowns? More importantly, do you have what it takes to survive?
This attraction features intense audio lightning, extreme low visibility, strobe lighting and fog effects, physically demanding environments, and very real graphic scenes of horror. All young children must be accompanied by an adult and it is not recommended for pregnant or those who suffer from claustrophobia, seizures or heart and respiratory conditions.
Ticket information is available online.
There is so much to see and do this Halloween in Liverpool and beyond, you'd crazy to miss out!
Book your city centre accommodation with Base Serviced Apartments now.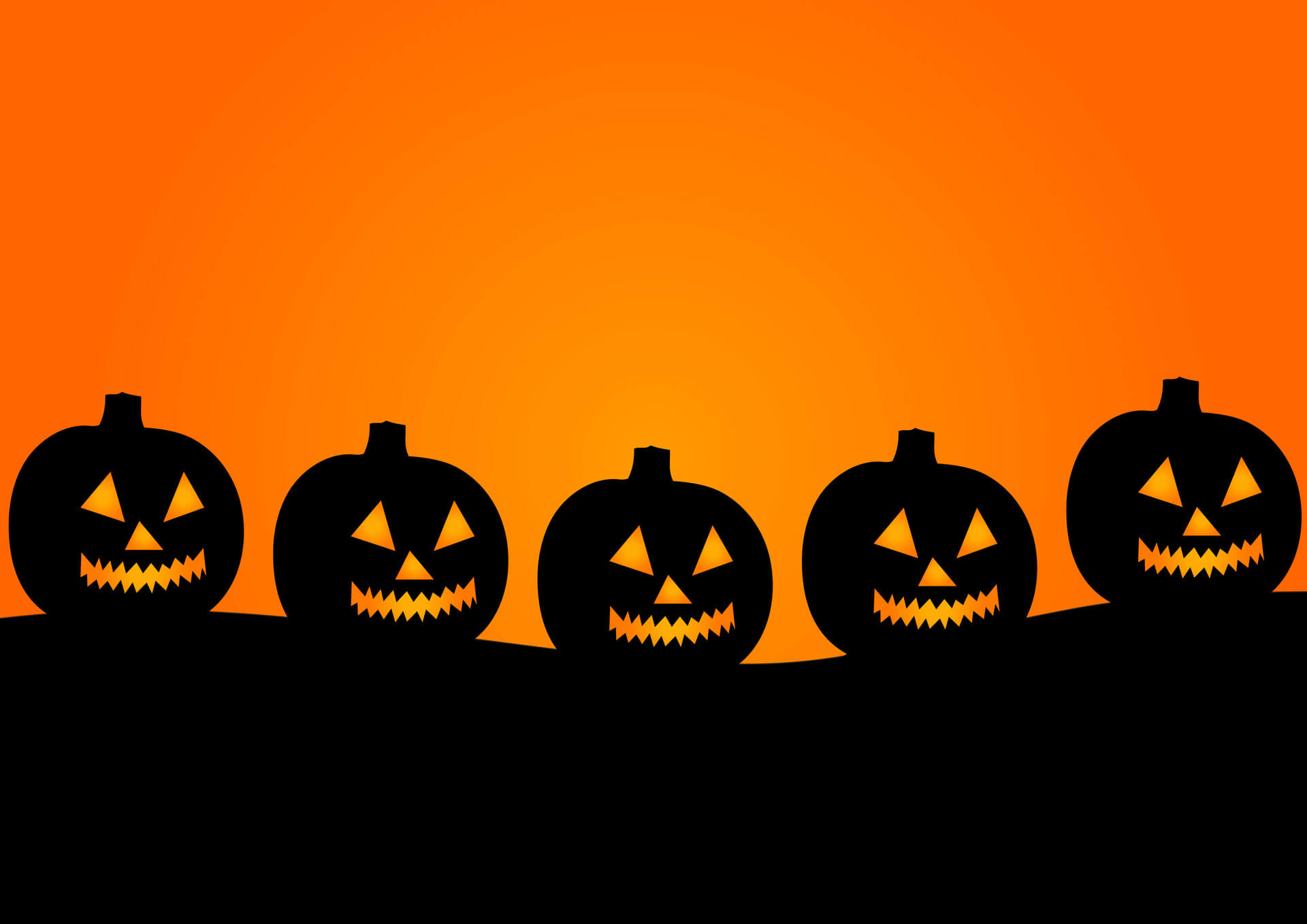 Base Serviced Apartments offer an unrivaled service for those looking to stay in a fabulously contemporary yet homely property, within spectacular city environments.
Choose from our range of one, two and three bedroom properties within the heart of Liverpool. All apartments are fully-furnished and fully-equipped providing you with your own environment to entertain guests or simply to switch off and unwind.
We are the real alternative to hotel living!
Book your next getaway with us now! For families, we would recommend our Duke Street and The Docks apartments. For leisure breaks, we would advise looking at our Sir Thomas Street or Cumberland Street apartments.