Liverpool is bursting with culture this May with a plethora of events taking place, but no event is arguably more significant for the city than LightNight.
For those who don't know, LightNight is Liverpool's one-night arts and culture festival which takes place annually in May. An astonishing 100+ special events will take place throughout the city centre across some of the city's most celebrated venues including The Bluecoat, Baltic Triangle, St Georges Hall, Liverpool Anglican Cathedral and our iconic Waterfront to name a few.
For a seventh year, LightNight will embellish Liverpool with an array of free cultural performances produced by social enterprise Open Culture, whose purpose is to increase both the profile and engagement with arts and culture on Merseyside as a whole.
The theme for this year's festival is "Experiments", something which will reflect in the dynamic events on display. Whether you want to take in one of the many Exhibitions, Light Projections, Live Performances or even something more hands on, LightNight caters to all age groups and tastes. The festival even has it's own vintage double decker green buses solely to ferry visitors across events!
While LightNight offers a truly diverse range of eye-catching events, you may be a little spoiled for choice with all that's on offer. Fortunately, we have selected our highlights from this year's programme ensuring you don't miss out on the best.
No Worse, There Is None 
Liverpool Anglican Cathedral (21:00 & 22:00)
Arguably the most hyped of all events in this year's LightNight, No Worst, There is None is a large scale audiovisual composition taking place at one of Liverpool's most iconic venues.
Inspired by the Gerard Manley poem of the same name, this collaborative arrangement commissioned by Ad Hoc Creative and composed by Bill Ryder-Jones (of The Coral fame) brings together visuals by artists Sam & Damien Wiehl, AV effects, along with Ryder's own orchestral piece and the vocals of Liverpool Cathedral's Youth Choir to create a captivating and immersive experience told from multiple perspectives.
Shush! Silent Disco
Liverpool Central Library (20:00 & 23:30)
One of the quirkier ideas to come from this year's programme, local underground techno party STATK has joined forced with Shush Silent Disco to bring Liverpool it's quietest ever rave to Liverpool Central Library!
For the first time in it's 137 year history, the Library will be hosting a silent disco in the historic Picton Reading Room with three DJ's including STATK, DJ Mark Armstrong and a guest DJ. Attendees are invited to join in the festivities, grab a pair of headphones, choose the channel of the choices and dance the night away…quietly!
Bollywood Nights
St Georges Hall (Workshop: 19:15-20:15 / Dance Mashup: 20:30-21:00)
Professional Bollywood dancers Movema will be hosting a very special event as they will be teaching people of all ages to dance just like the stars, with a street dance twist. Learn everything from basic hand movements with feet work to full choreographed dance sequences in this insightful and fun workshop.
Be sure to stick around when it's over, as you will have the chance to join in a truly unique international mashup as Movema and LightNight's resident Ceilidh band Gallimaufry will be fusing Bollywood with traditional Ceilidh to create a distinctive fusion of two styles, to show how different cultures can co-exist in harmony with each other (Gallimaurfy will also be conducting their own Ceilidh event from 21:00-23:00 following on from this).
Katumba brings together Liverpool & Brazil
Pier Head (20:45-21:15)
Liverpool's largest drum ensemble Katumba will be bringing their incredible music, kicks, and dance to LightNight with a special collaboration between Capoeira For All in a performance that explores synergy between beats and slips as well as how ancient forms of communication – rhythm and movement – relate in the modern age.
LightNight Commission: The Cage of Experiments
The Bluecoat (17:00-22:00)
Witness a giant birdcage filled with musical and visual marvels at this eclectic LightNight Commission curated by Katy-Anne Bellis of Caustic Widows.  Take part in a mass group waltz, discover acrobatic parrots and enjoy ambient sounds throughout the evening; this promises to be a feast for the senses!
LightNight Commission: Afterglow
The Black E (17:00-22:00)
Another of the many LightNight Commission's on display at this year's festival, this immersive light and sound installation designed by artist Carlos Bernal, translates the immateriality of space, architecture and causality into a choreography of structural elements via mapped light projections onto six screens. It may sound complex, but it is guaranteed to be stunning!
LightNight Commission: Météo-Dock
Various Locations (19:00 & 19:40)
Our third pick from this year's LightNight Commission's is Météo-Dock, an experimental weather ship specially commissioned by Albert Dock for LightNight. Launching from Kathleen and May schooner, this promenade performance will see the 8 strong crew's embark on a processional rendition that responds meteorological conditions.
Experimental Film
LJMU Redmonds Building (17:00-22:00)
Liverpool John Moores University has a significant present throughout this year's LightNight with multiple different events taking place, our pick however, is their evening of experimental film taking place at LJUMU Redmonds Building. The headline picture is Violet City, a black & white micro-budget feature film set in a gothic steampunk version of Liverpool. Directed by John Maxwell and written by Dave Jackson, the film takes influences from German Expressionism using composited images to create a dark fairytale ambience. The full line up can be found here.
Solotoria
LIPA (17:00-22:00)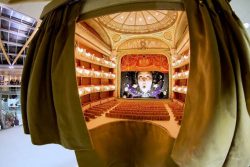 One of the most experimental pieces taking place at LightNight, Solotoria is your own personal theatre, a performance solely for you. Within two delicately rendered auditoriums, visitors can experience a repertory of shows including: Shakespeare, Ballet, Opera & Magic. This promises to be a totally immersive experience and is sure to prove one of the more popular attractions at LightNight.
So You Think You Know Anime?
Liverpool Central Library (20:30 -22:30)
While this event will offer a relaxed introduction to Japanese Animation for novices, the reason it makes our highlights is for their Cosplay Catwalk L.E.A.F (League of Extraordinary Anime Fans) who will be taking  people already know about the genre and expand on it all whilst challenging common misconceptions.
If you're a fan of the genre or even if you're not, this should be fascinating to watch.
LightNight After Party
Constellations (22:00-02:30)
Rounding off this year's LigthNight, Baltic Triangle hotspot Constellations will be keeping the celebrations going into the early hours of the morning with LightNight After Party, in association with Abandon Silence.
Join some of Liverpool's first-rate DJ's including No Fakin DJ's, Faux Queens and Abandon Silence resident Andrew Hill as they provide a soundtrack spanning Hip Hop and Techno to keep you dancing into the wee hours. Be sure to look out for a surprise pop up performance and visuals by artist Sam Wiehl.
Regardless of what events you choose to check out at this year's LightNight, one thing is certain: it's going to be an unforgettable evening!
You can find a full schedule of events taking place at LightNight Liverpool here, entry to all events is free (except the After Party which is £5+) though donations are welcomed and encouraged to help fund future festivals.
A highlights film of LightNight Liverpool 2015 can also be viewed here.
LightNight was previously included in our May Preview blog which can be viewed here.
Be sure to follow LightNight Liverpool for all updates regarding the festival:
Twitter – https://twitter.com/LightNightLpool
Facebook – https://www.facebook.com/LightNightLiverpool