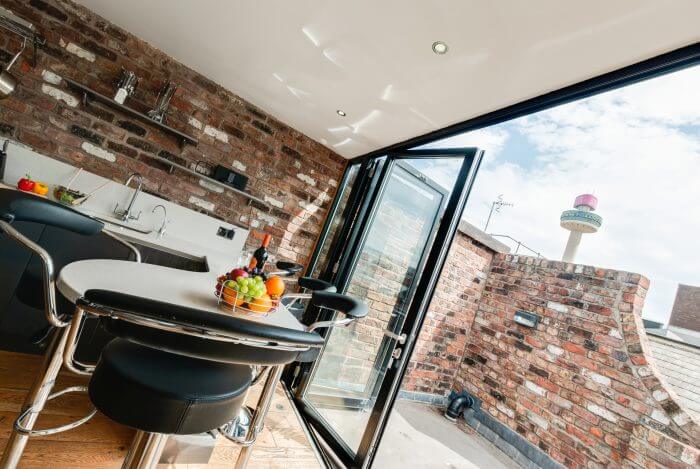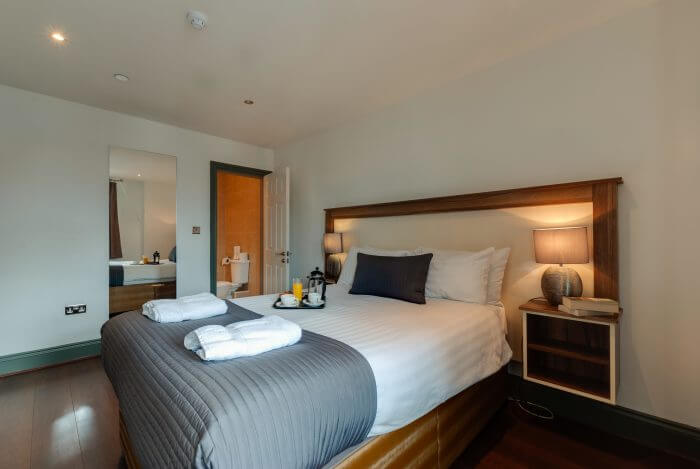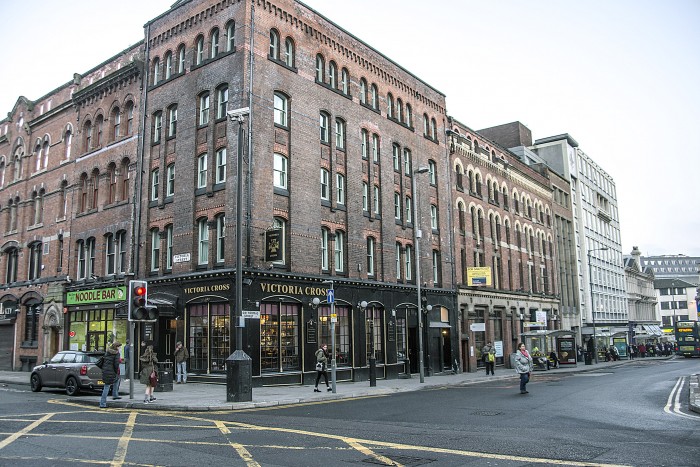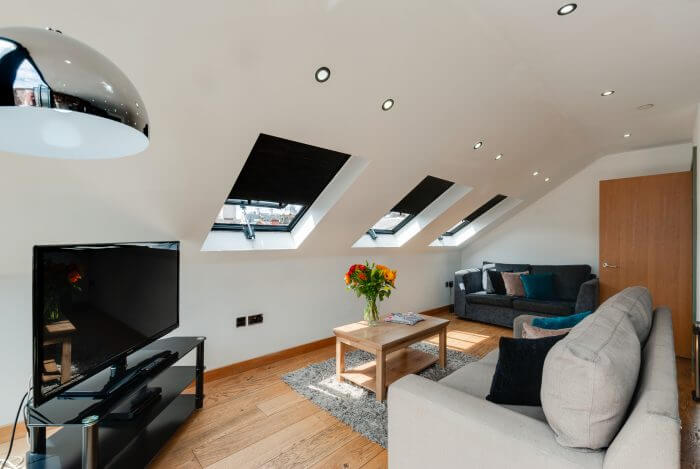 Sir Thomas Street – Liverpool
Superior stay in this impressive building ...
2 & 3 Bedroom Apartments or Double Bedrooms Sleep 1 - 10
Welcome to Sir Thomas Street, Liverpool
And now for something a little different… Sir Thomas Street offers guests a superior stay in this impressive building. Over a century old, it was beautifully renovated into serviced apartments in 2012. With its 4-star accreditation by Visit Britain, Sir Thomas Street is a sought-after choice for guests – whether on business, with family, or a couple's weekend break. Property types include:
With a high-quality specification, these apartments offer contemporary, light bedrooms – each with their own en-suite. The five apartments are split between five floors with no access to a lift. The chic interiors and original features bring charm and elegance to the atmosphere in this building, making it a truly plush retreat. The top floor apartment is the spectacular penthouse suite, surrounded by vistas in the form of Liverpool's magnificent cityscape.
Just a short stroll away from Sir Thomas Street is the newest addition to our apartment portfolio. Located within the Cable House building is an impressive, open plan, deluxe three bedroom apartment. This spacious property can accommodate up to 10 guests and is an ideal setting to make your city break extra special:
Features
City Centre location
Free Wi-Fi available
Flat screen TVs with DVD players
Fully equipped kitchen with cutlery, crockery and glassware
Toiletries from Walter Geering
Welcome packs (containing tea, coffee, sugar, milk sachets & biscuits)
Spacious living areas
Private terrace overlooking the city in Penthouse 2 Bedroom Apartment
Luxury Egyptian cotton bed linen, towels & baths mats
Full size fridge/freezer, oven/hob, washer/dryer, microwave, toaster & kettle
Intercom
iPod docking station
Hairdryer
Iron & ironing board
Complimentary weekly housekeeping service (for stays longer than 7 days)
Baby cot (on request)
Stairs only*
Please note that special requests cannot be guaranteed. However, we will do our best to meet your needs*
Apartment Types at Sir Thomas Street - Liverpool
Location & Local Attractions
Some Reviews from Recent Guests
"Really Impressed"
Stayed in the 3-bed apartment on Sir Thomas St. We were very pleased that each bedroom had its own shower and bathroom. One of the showers ran cold though. The shower in another room also ran cold but this one could be our fault as we did not know there was a cord to pull on the wall. The sitting area was spacious with a huge sofa, large tv and well-equipped kitchen. The property is close to everything – easy walking distance. We loved it and would definitely go again. Don't be put off by the paintwork around the front door.
September 2017
"Excellent Stay"
Nicely situated in town. Excellent large, clean and very comfortable rooms. All the cooking and clothes washing facilities you could want. TV in the bedrooms and in the living room. Just a few minutes walk to the main restaurants and pubs.
August 2018
"Amazing Stay in the Heart of Liverpool"
Our family of 4, with 2 teenage sons, were thrilled with the modern, roof top, apartment located in the heart of the city. We were able to walk everywhere! The views from the roof top patio were amazing and we loved that the glass wall retracted fully opening up to the patio. The apartment was clean with all the amenities we needed to cook our meals and for a very comfortable stay. Both beds were comfortable and we heard no complaints from our son who slept on the pull out couch. It truly is a unique apartment that made our stay in Liverpool all that much more special.
August 2018
"Fabulous Apartment"
The apartment on cheapside was a fabulous place to stay, it had ample space for 8 people in our party. Very comfy beds and superb bed linen, lots of hot water, great open plan space to entertain. Great location Would highly recommend this place to stay.
August 2018
"Enjoyable stay"
Lovely clean rooms with great facilities. Will definitely be back. Each room has an ensuite with shower and toilet. Was the perfect place to relax after shopping. Staff were very friendly and helpful too
August 2018