Corporate Packages
…let the stress of the day melt away as you slip into the comfort of your personal city space.
Here at BASE we understand that organising corporate travel can be demanding. With changing circumstances and uncertainty on dates, it's often difficult to put business travel plans in place. Our dedicated reservations team are ready to tailor the BASE service to your needs. Complete with fixed, competitive rates and flexible cancellation terms, we're here to make your corporate trip as relaxed as possible.
Why Choose Base for your Corporate Accommodation?
A #staywithBASE is incomparable to a stay in your average studio apartment or hotel room. Our corporate accommodation offers spacious layouts, providing you with a real home from home in prime city central locations. BASE Apartments boast unique features such as separate living, dining and sleeping areas, fully equipped kitchens and laundry facilities. With a choice of double rooms and 1-3 bedroom properties, you can find your perfect BASE with us.
What Sets our Corporate Packages Apart? 
Weekly Housekeeping Service 
Complimentary weekly housekeeping service to take the hassle out of everyday chores. Weekly top up of welcome pack including toiletries, tea, coffee, biscuits and dishwasher tablets.
Corporate Booker Advantage
Priority access to a choice of locations and amenities such as views & balconies, ensuring your stay is as comfortable as possible. Save time with our express check-in/check-out service with no need for security deposits. All Liverpool locations are within a 10-minute walk to the Convention Centre.
Competitive Fixed Nightly Rates
Negotiated fixed nightly rates with no surcharges during major events. Flexible booking terms and block booking options to make the booking process smooth, simple and stress free. Guaranteed parking at Duke Street in Liverpool on request.
Home from Home
Spacious, fully equipped apartments and double rooms with a choice of configurations to suit your needs. BASE operate in quiet residential blocks, providing you with peace of mind during your business trip.
Business Services
Concierge booking service for restaurants, private dining rooms and meeting rooms with our partners. Take advantage of discounts at a range of local restaurants with our BASE Benefits.
Whether its a short or long term business visit, contact our friendly team today to discuss your requirements and budget.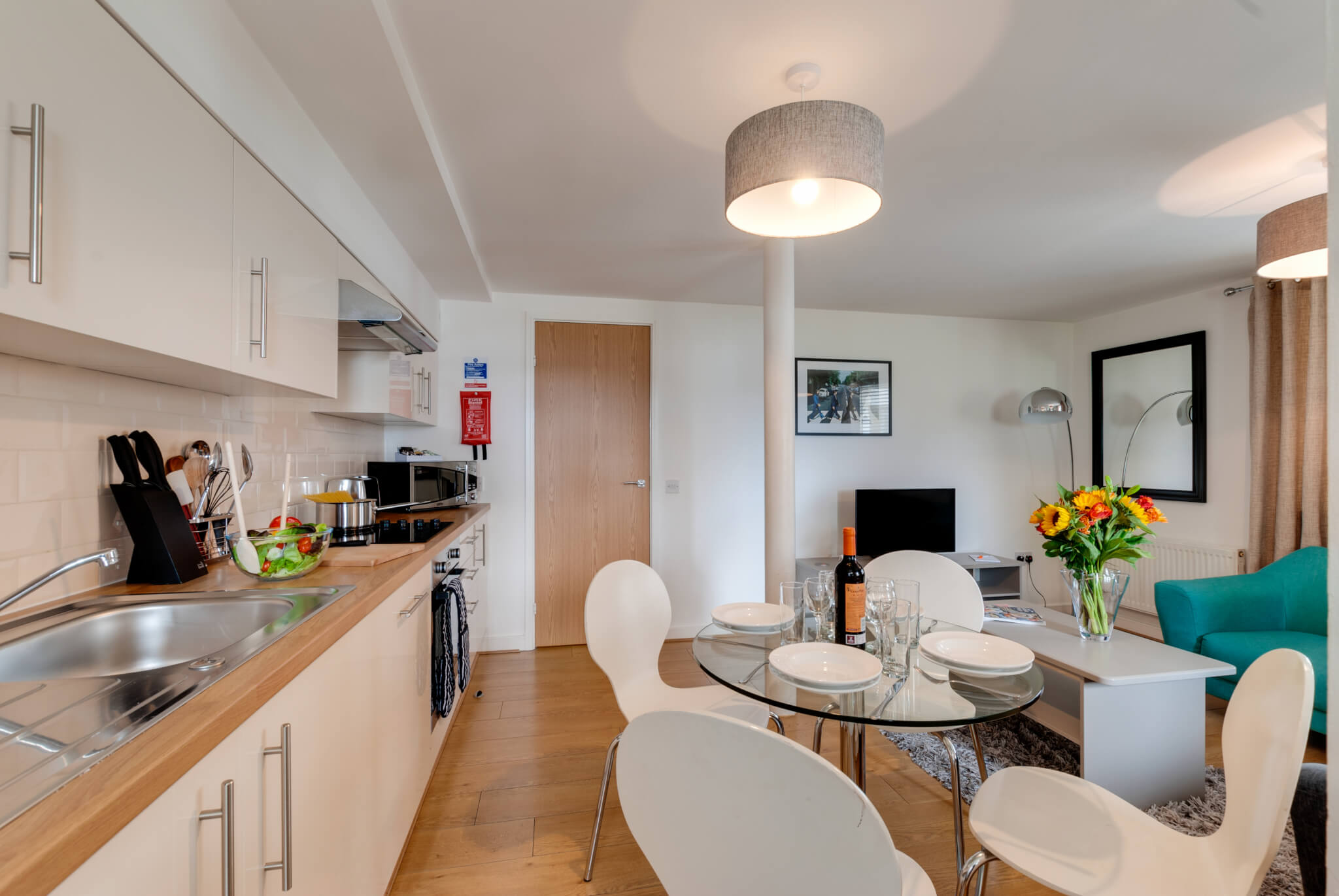 Our Recommendations:
Liverpool
Duke Street:  One Bedroom Apartment with Sofa Bed
The Docks:  One Bedroom Apartment with Sofa Bed
Chester
City Road: Compact Double Bedroom with En-suite 
Additional reading: "Why self-serviced apartments are perfect for Business Travellers"