If some friends are coming over to see you and you would like to impress them with the cool places Liverpool can offer or you just feel like warming up during this Christmas, this guide is a must for you as we will try to illustrate you with the best bars in the city
Everyman Bistro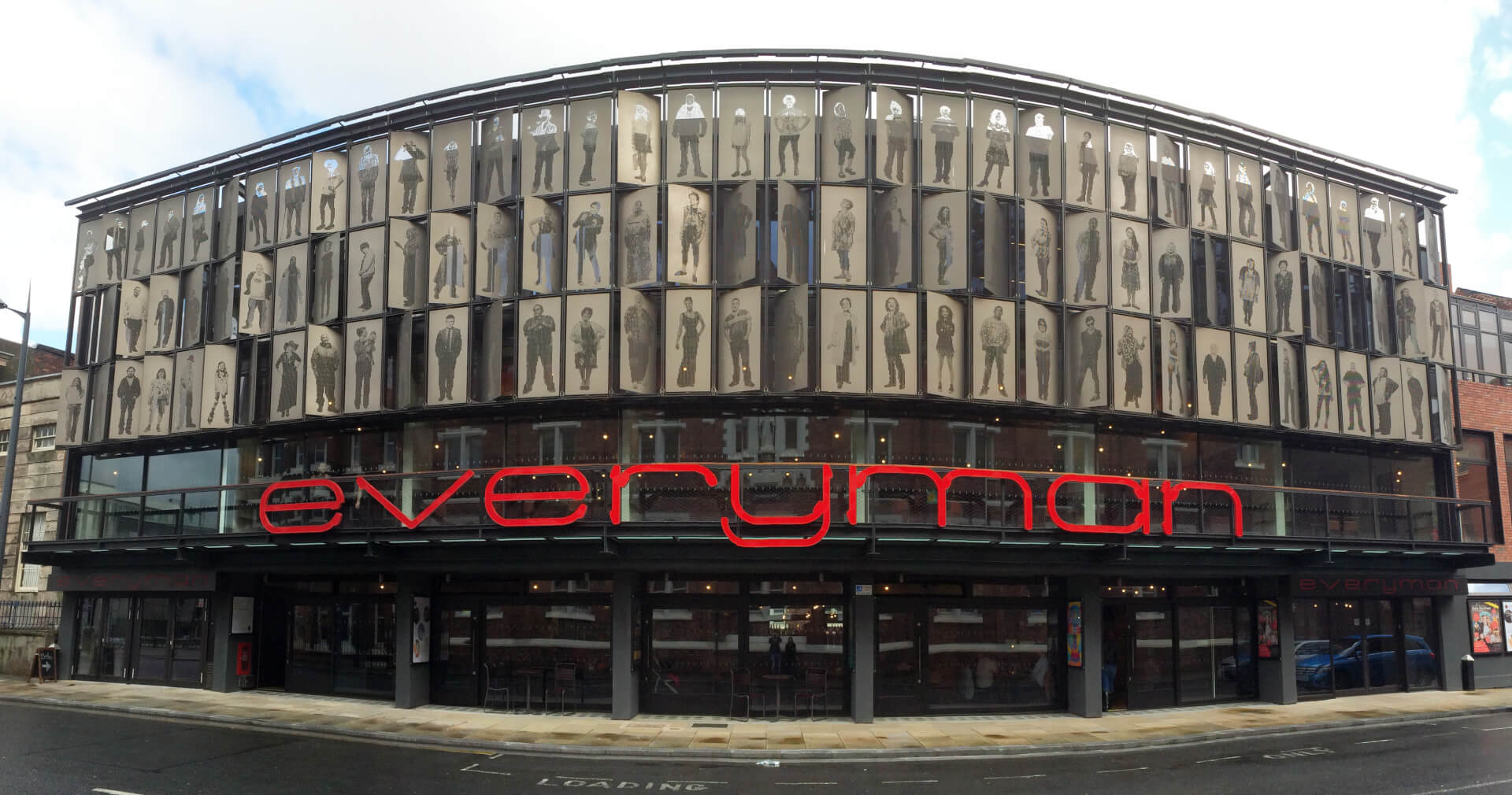 "The Everyman has been a social and creative hub for decades – now it offers beautiful new places to meet, eat, drink and relax, from breakfast to the early hours"
By now it's considered a Liverpool institution, the Everyman Theatre reopened after a quite expensive refurbishment of £27m, it was completely rebuild in fact. If we head downstairs we'll find the bistro bar which has tables and banquettes with lights that can adjust to our moods as you can move them up or down.
Williamson Square, 0151 708 3700 Open daily from midday, closes at 10.30 pm Mon-Thurs and at 1 am Fri-Sat, Sunday brunch midday-4pm  
Alma de Cuba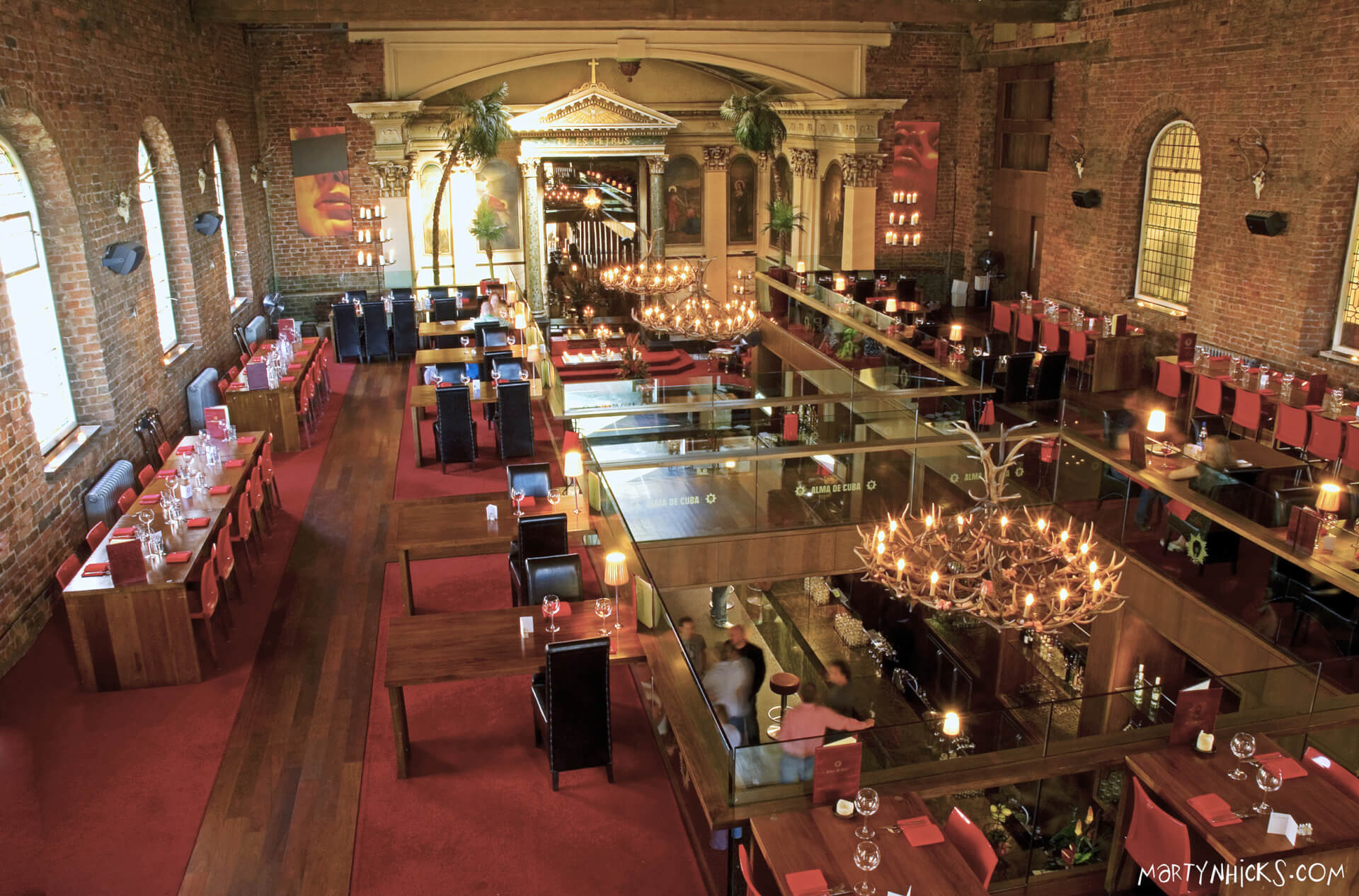 This restaurant, bar and club is based where a Catholic Church used to be, now the restaurant is placed upstairs. Stain glass windows, the ceiling is sky high and it stills retains the peaceful vibe of a holy place with hundreds of flickering candles.
If you ask me go for the Red and Green for starters (It comes with Tequila and a couple of Sangria shots). After eating go downstairs to the bar where you'll find an extensive list of cocktails
  St Peter's Church, Seel St, Liverpool, Merseyside L1 4BH  0151 702 7394  
The Philarmonic Dining Rooms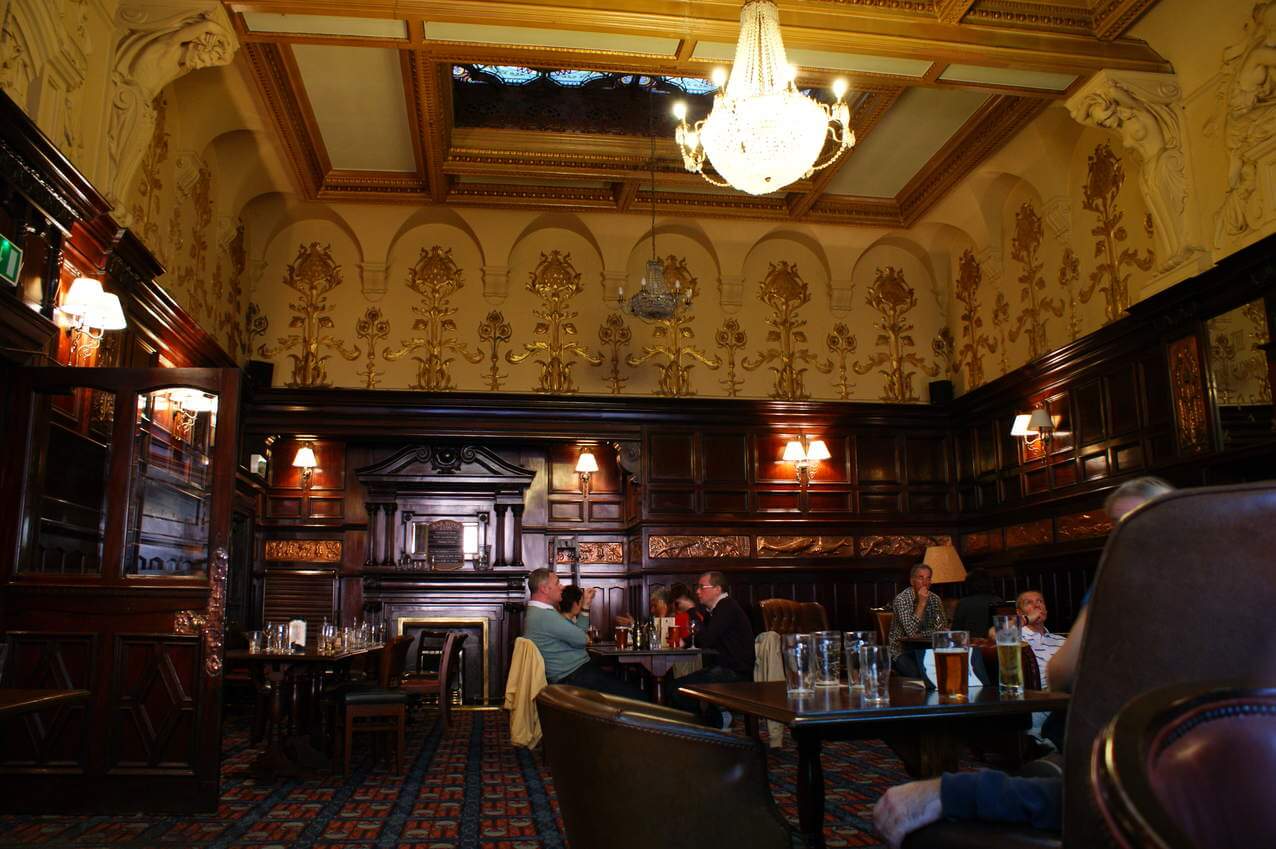 Welcome to the only grade I listed loos in the UK, this fascinating place is really vintage.    It's known by the locals as "The Phil".
If it's cocktails what you are looking for, you came to the wrong place. Now, ask for a beer and be prepared to be really surprised by the huge collection of real ales.This is definitely the place to bring somebody who is new in town to impress him with Liverpool's rich history.
In case you are hungry, food is also served all week from 11am to 10pm.
36 Hope St, Liverpool, Merseyside L1 9BX 0151 707 2837
Mojo Bar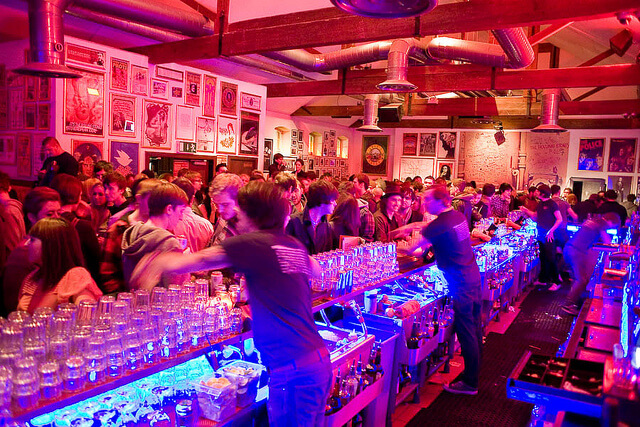 Specialised in drinks, what used to be the old stables and office of the Lord Mayor is now one of Liverpool's liveliest hangouts most nights of the week.
They even run cocktail masters classes where you and your friends can go be taught the fine art of how to mix a perfect cocktail
They have a massive back bar and make their cocktails good and fun.
The Stables, Back Berry St, Liverpool, Merseyside L1 4BG 0845 611 8643
Motel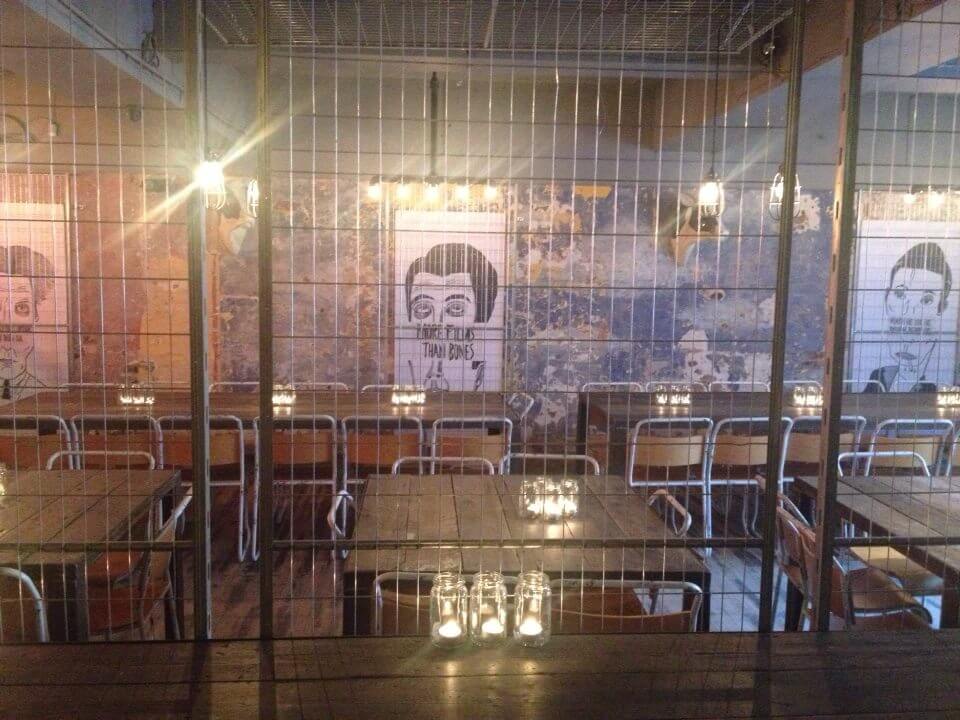 A new addition to Liverpool's bar scene is Motel, where the cocktails are good, the staff are friendly and the jukebox is full. The rough-but-polished industrial feel of the place almost makes you forget where you are and, after several of its strong cocktails, you definitely will.
5-7 Fleet Street, motelbar.co.uk. Open daily 5pm-3am
Berry & Rye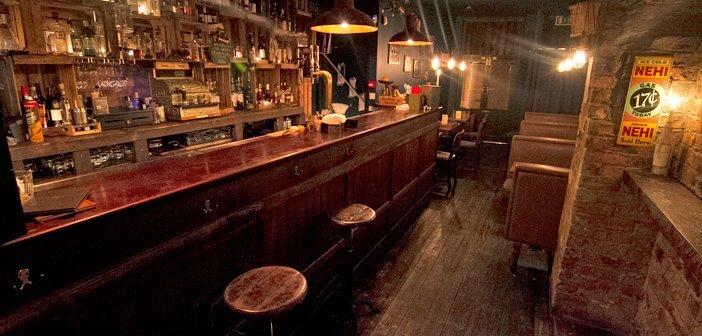 It looks like a closed shop front but really it hides the tiniest bar in Liverpool. In order to get in, you will have to knock the door, if the man there likes what he sees, and there is enough room inside, you'll be in.
Once inside you will be in the city's smallest bar with top-notch table service, pretty good cocktails, kind of New Orleans vibe and great music.
Take a seat, head to the bar, do what you want and enjoy the easy nonchalant air to this place.
48 Berry Street, Open Mon-Sat 5pm-2am, Sun 7pm-1am
District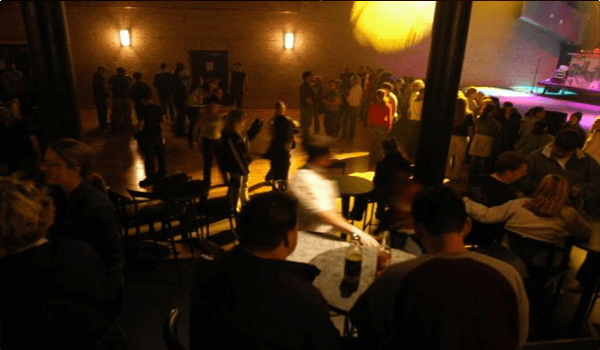 This was the first venue in the city's Baltic Triangle – once the city's workshop, now its self-styled creative hub.
District brings some amazing live acts to an area densely populated by electronic music nights. Set in a warehouse shed, it's actually a lot more prepared for every event than others in the area and with a much more permanent feel. The drinks menu is varied and the outdoor space is an attractive and comfortable addition. The capacity is small but the selection policy is very tight and the quality is high.
61 Jordan Street Open Fri-Sat 7pm-4am
Santa Chupitos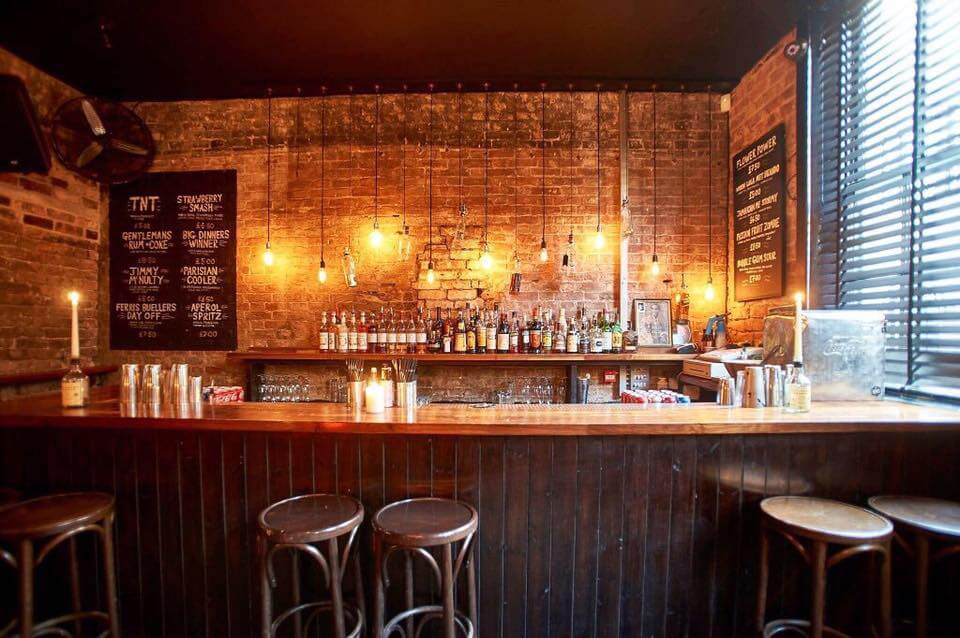 If you are thinking about going somewhere and do a bit of pre-drinking, this is your place , the name means "Saint of Shots" and cocktails is what they do best.
Sure it will be hard to find a table due to the bar's popularity but the buzzing atmosphere, which by the way is every night of the week- more than makes up for it.
41 Slater Street. Open daily Mon-Wed 5pm-2am, Thurs and Sun 5pm-3am, Fri-Sat 5pm-4am
Peter Kavanaghs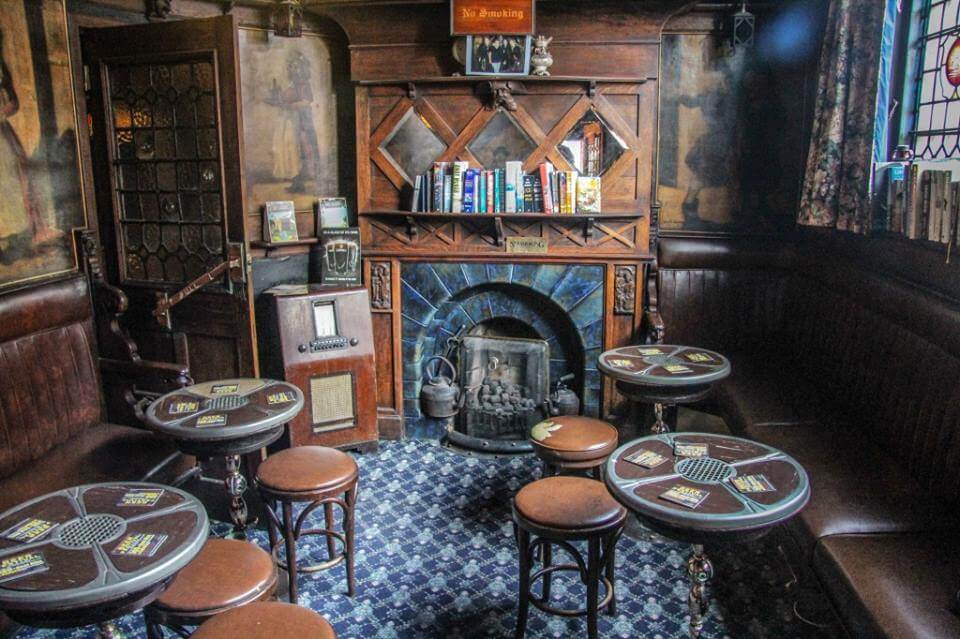 On the outskirts of Liverpool Georgian Quarter is where this pub is based, the unique interior is the result of an eccentric rebuilding in 1929 by the owner himself. You will find a main bar with a pretty mosaic floor, a large collection of knick-knacks hanging from the ceiling and a décor inspired by old ships
Definitely a nice Irish pub that has survived over the years.
6 Back Egerton Street, no website. Open daily 11am-11pm
Ye Cracke
Liverpool's best "proper" beer garden. The atmosphere is at its best in summer when people chase the sun around the garden. The decor and furniture can hardly have changed since it opened 150 years ago.
13 Rice Street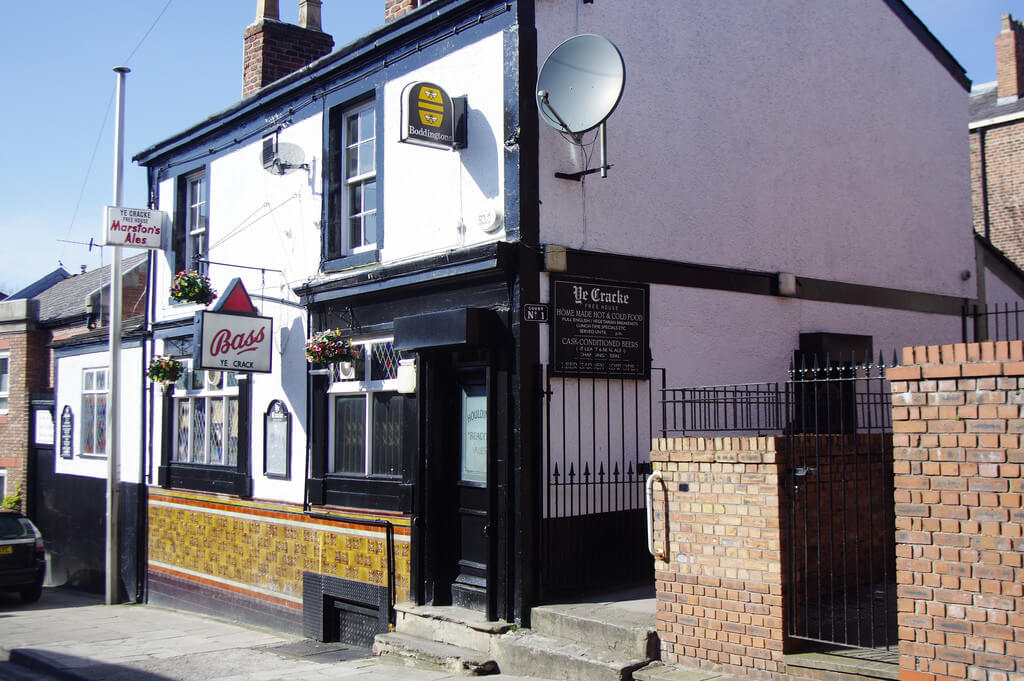 From everyone at Base Serviced Apartments we wish that you find this top 10 bars guide interesting. We would love to hear from you after you visit them.
Do you know more pubs worth mentioning?
Base Serviced Apartments offer an unrivaled service for those looking to stay in a fabulously contemporary yet homely property, within spectacular city environments.
Choose from our range of one, two and three bedroom properties within the heart of Liverpool. All apartments are fully-furnished and fully-equipped providing you with your own environment to entertain guests or simply to switch off and unwind.
We are the real alternative to hotel living!
Book your next getaway with us now! For families, we would recommend our Duke Street and The Docks apartments. For leisure breaks, we would advise looking at our Sir Thomas Street or Cumberland Street apartments.