Are you looking to travel this festive season? BASE Serviced Apartments would like to share with you "Why serviced apartments make for great winter accommodation".
When we think of the winter season, one word immediately comes to mind; home.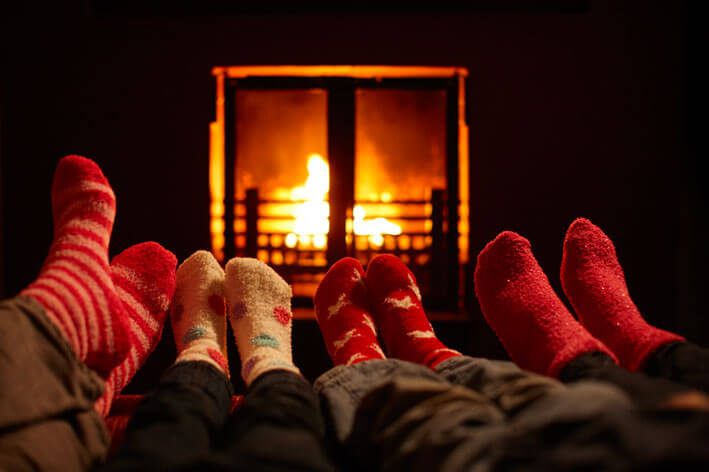 During the winter, home becomes that special place where we reunite with our family and friends for intimate gatherings around a warm cosy fire in comfort. We all look forward to going home during the winter, however, why not try something a little different this festival season.
By choosing a city break to Liverpool or Chester you get the chance to: explore a great metropolitan city and treat the family to a variety of great winter attractions.
Or perhaps sample some of the finest winter cuisines the UK has to offer, indulge in retail therapy or even take in the great British tradition of Panto (oh yes it is!).

If any of the above sounds appealing, then you'll be relieved to know that by choosing to stay at a serviced apartment you don't have to leave home; you're already home.
"Home from Home"
Here at BASE, we advertise our serviced apartments to heave a home from home quality because we want to provide our guests with special accommodation, complete with all the comforts you might associate with home.
A spacious living room, kitchen and self-catering dining facilities, a nice hot shower and a comfy bed – these are features you may not necessarily benefit from if you chose to stay in a stuffy hotel room.
However, you do have these features at home and you also have these features at BASE Serviced Apartments.

Our apartments are based on a residential complex specifically so that we can provide our guests with a great home from experience.
There's no need to feel confined or restricted while staying at a serviced apartment, here you benefit from your own personal space to do whatever you want.
Chill out with the family, unwind after a busy day of networking or put your feet up on the sofa and surf the web (we have free WiFi!) – the choice is yours!

Another benefit of staying at a serviced apartment is our self-catering facilities.
If you prefer to dine in instead of out, why not cook something delicious in the kitchen? Or serve up some festive winter warmers?

Most of all, if you're looking to splash out and treat the family (or that special someone) this winter, BASE offers fabulous penthouse suites if you fancy something a little more luxurious.
We have a full range of properties and fantastic city centre locations in both Liverpool and Chester available (which can be viewed here).
"Live Like a Local"
While our serviced apartments have plenty of boastful features, arguably the biggest is their great city centre locations.
Perfectly situated in ideal central locations, a stay at these apartments invites guests to "like like a local" as all properties are within walking distance to iconic landmarks and famous attractions.

From our Liverpool apartments, guests can easily access the likes of Albert Dock, The Cavern Club and Liverpool Cathedral along with other attractions.
While our Chester properties benefit from easy access to the main shopping area and other attractions within the city centre.

Furthermore, all of our properties have a great choice of bars, eateries, and restaurants to choose from should you decide to venture out.
Whether you wish to be adventurous and discover something new or maybe fall in love with a new favourite – you decide!
However you choose to enjoy your holiday, you'll be glad you chose to stay with BASE!
"Winter Special" – experience our serviced apartments for less!
If you follow BASE on social media, you'll be aware that we are running a very special promotion to help send off 2016 with a bang.
Our Winter Special discount allows guests to experience our serviced apartments  for less during the final months of 2016.
With such fabulous events taking place this November, now is the best time for you to see what Liverpool and Chester have to offer!
All bookings until the end of 2016 will receive a promotional discount of 10% of the regular price (*promotion applies to all available accommodation).
This offer can only be claimed via booking directly with BASE; to claim your discount please call our reservations team directly on 0151 702 9222 and inform us about the nature of your stay.
Whether you want to treat the family to a winter escape, traveling on business or enjoying a last minute city break with friends; we are the real alternative to hotel living!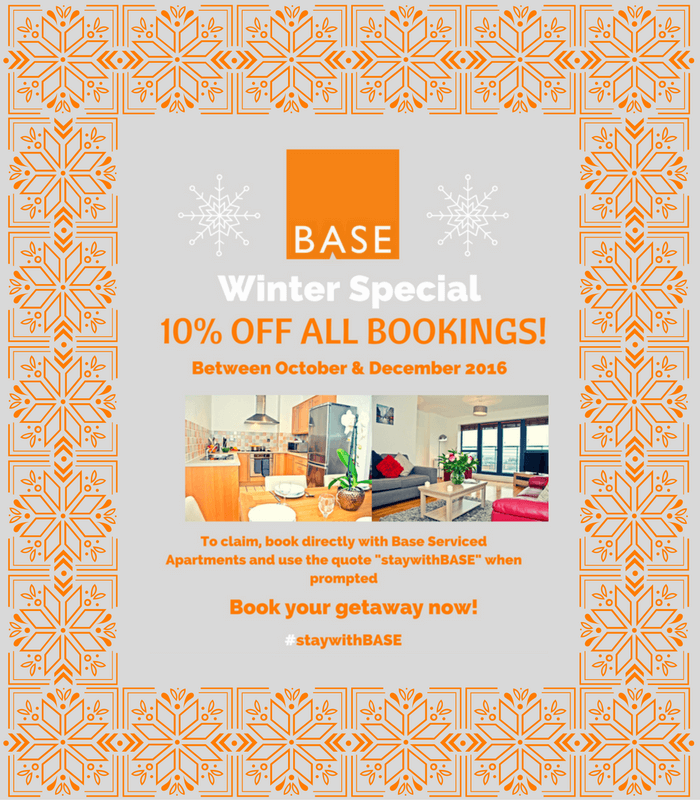 BASE Serviced Apartments offers an unrivaled service for those looking to stay in a fabulously contemporary yet homely property, within spectacular city environments.
Choose from our range of one, two and three bedroom properties within the heart of Liverpool or Chester.
All apartments are fully-furnished and fully-equipped providing you with your own environment to entertain guests or simply to switch off and unwind.
We are the real alternative to hotel living!
Book your next getaway with us now! For families, we would recommend our Duke Street and The Docks apartments. For leisure breaks, we would advise looking at our Sir Thomas Street or Cumberland Street apartments.
If you're heading to Chester, check out our range of properties available at City Road.