We'll start this post about Liverpool's facts from the beginning.
How is that? You may ask.
Well, from the creation of the city seems just about right.
Liverpool Facts
Did you know that the city of Liverpool was created in 1207 when King John granted a Royal Charter which was written in Latin?
That's how Liverpool became once "Second City of Empire" even eclipsing London due to commerce at the time.
Since that moment the city was created and no one would imagine everything that it will accomplish in the history of United Kingdom, flourishing thanks to the important port dock (40% of the world's entire shipping cargo was in Liverpool)
Music
For instance, did you know that Liverpool holds the Guinness Book of Records title for being The Capital of Pop? More artists with a Liverpool origin have had a number 1 hit than from any other location.
Of course we haven't forgot about The Beatles, who changed the face of popular music as we know it nowadays.
"Did you know that John Lennon was born during an air raid on Liverpool on October 9 1940? "
 In case you would like to find out more about the relationship between Liverpool and the Beatles, check out this other post of ours.
Sports
Liverpool also pride on sports as it is the most successful footballing city in England!
As you know is home to both Liverpool and Everton and between both of them have won 27 League Championships, 4 European Cups, 3 Uefa Cups, 1 Cup Winners, 11 FA Cups and 6 League Cups.
That's a lot of titles if you ask me.
Architecture & Art
In regards of the city architecture, you may be surprised to know that Liverpool has the largest collection of Grade II-Listed buildings outside of London.
In numbers that means 2.500 listed buildings and 250 public monuments.
If you head towards the waterfront in Liverpool's Dock area you'll be able to see the city's Three Graces, which are the Liver Building, the Cunard Building and the port of Liverpool.
"The Liver Building is a symbol of the city of Liverpool"

Continuing in this area, it's about time to mention Liverpool's Cathedrals, yes plural, there are 2 great ones!
Liverpool's Anglican Cathedral is the largest cathedral in Britain and the 5th largest in the world, it was designed by Giles Gilbert in 1904.
" The bells of the Liverpool Anglican Cathedral are the heaviest in the world! "
It's 13 of them which weight in a total of 17 tonnes plus Great George which is a monster of 15 tonnes, larger than Big Ben!
There are 2 pipe organs, the Grand Organ is the largest In the UK and the largest operational church organ in the world with 10.268 pipes!
At the other end of Hope St we can find the Metropolitan Cathedral which was designed by Frederick Gibberd right after the Second World War.
If we talk about the city's art scene, we have to mention Liverpool's Walker Art Gallery which by the way is the national gallery of the north and houses one of the best collections of European art outside of London.
And of course our TATE gallery located in Albert Dock.
Movies
With such a beautiful city, wouldn't you think that somebody has taken advantage of this great buildings and infrastructure?
Of course they have, that's why Liverpool has a thriving film industry, and it has been used as a location for more than 140 films last year, among them I am sure you'll recognize: The Dark Knight, Sherlock Holmes, Harry Potter and the Deathly Hallows, Captain America, etc.
A city of many firsts
Is not new that Liverpool is always in the edge of the trendy and originality, back at the time the city was a ground breaker, it was the first city in the world to have a school of tropical medicine, a school for the blinds, an American Consul and a lending library.
And maybe the major success was the first passenger-carrying railway in the world which connected Liverpool and Manchester in 1829
Did you know all this?
I didn't either, this is fun! Both of us are learning something today.
Food
Lastly, something that we wouldn't forget to mention is the typical dish of the city: SCOUSE
For those of you who don't know, scouse is a type of stew that was eaten by Liverpudlians in poverty before the 1900s the ingredients vary according to who you ask, but they are basically lamb or beef, cabbage, carrots, potatoes and onions.
Have you tried it yet?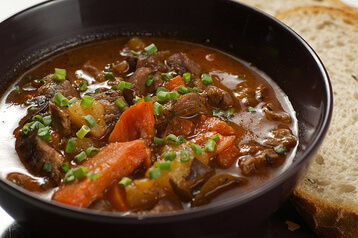 As you can see there are lot of Liverpool facts you did not know, I didn't lie!
In case you are thinking about visiting Liverpool for any occasion, with the whole family, friends or your partner don't forget about having a look at our apartments!
We have different locations throughout the city that will surely fit your needs!
Base Serviced Apartments offer an unrivaled service for those looking to stay in a fabulously contemporary yet homely property, within spectacular city environments.
Choose from our range of one, two and three bedroom properties within the heart of Liverpool. All apartments are fully-furnished and fully-equipped providing you with your own environment to entertain guests or simply to switch off and unwind.
We are the real alternative to hotel living!
Book your next getaway with us now! For families, we would recommend our Duke Street and The Docks apartments. For leisure breaks, we would advise looking at our Sir Thomas Street or Cumberland Street apartments.