June marks the start of the summer season in the UK and what better place to when the sun shines than Liverpool!
Recent reports have suggested that this summer will be the UK's hottest in over a 100 years, which makes a city break to the UK an absolute must in the coming months!
Last month saw a plethora of great events take place in Liverpool and if you weren't here to experience it, than June will serve as a great reminder of what this fabulous city has to offer with an exquisite selection of fantastic events, exhibitions and attractions take place over the coming weeks.
Unlike our May preview, we've decided to keep it brief with just 13 events handpicked from all that you can see and do in Liverpool during June. From a celebration of the cities historic waterfront to a global marketplace connecting thousands of businesses, Liverpool caters to all travelers and all tastes this June.
Scottish Ballet: Swan Lake
Liverpool Empire Theatre
Wednesday 1st to Saturday 4th June
Scottish Ballet has commissioned a brand new visceral take on the classic piece Swan Lake which will be helmed by David Dawson; an award winning, international choreographer.
Dawson, who has a reputation for pushing the boundaries of classical ballet, now intends to apply his provocative style to a timeless classic, remodeled with choreographic language relevant to the 21st Century.
Part of a world tour, Swan Lake comes to Liverpool Empire for a 4 day run and will surely be a quite the spectacle for those in attendance.
International Mersey River Festival 2016
Liverpool Watefront
Friday 3rd to Sunday 5th June
A celebration of Liverpool's historic waterfront, the International Mersey River Festival promises to draw in the crowds with a three day extravaganza of family fun, live music and entertainment which will take place along the iconic River Mersey.
A popular event within the city, the International Mersey River Festival will be in it's fifth year and looks to be it's biggest to date with brand new events featuring for the first time such as The British ThunderCat Racing Tour, which will see more than 18 boats battle out on the River Mersey reaching speeds of over 65pmh. Also making a debutante appearance will be the Daniel Adamson – a 113 old steam vessel (affectionately known as "The Danny") that following a £3.8m restoration is now in full working order and ready for passengers for the first time in 95 years.
Alongside the new additions are the returning favourites including: 60 narrow boats, four tall ships that includes The Phoenix (a beautiful two mastered brig at an incredible 34.14 meters in length which has also starred in films), Wakeboarding, Flyboarding Demonstrations, Jet Ski Stunt Displays, Watersports at Salthouse Dock, the International Canoe Polo Tournament and the Northern Boat Show which returns to the International Mersey after a successful inaugural debut in 2015.
In addition, there will also be an array of live music taking place across three stages and locations including the Main Stage at Pier Head, Sound Waves stage at Mann Island and the Ship Stage which is on board an actual vessel at Hartley Quay. Closing the festival with a Sunday night headline performance is renowned soul legend Billy Ocean and arguably the most household name at the festival. Expect a rendition of his crowd-pleasing hits including "When the Going Gets Tough, The Tough Get Going", "Caribbean Queen" and "Get Out Of My Dreams, Get into My Car". Other artists across the three days include, Soul II Soul, Gwen Dickey (of Rose Royce Fame), The Real Thing as well as performances from community choirs, the Royal Marine Band, traditional Irish music bands and homegrown talent.
An Evening with Tom Jones
Aintree Racecourse
Friday 10th June
Legendary crooner Tom Jones will be the second artist to join the series of summer concerts taking place at Aintree Racecourse. Following a sold out performance from Deacon Blue last month, the second "An Evening at the Races" event will see one of the most successful singers of all time take the stage, in what will surely be a memorable performance.
With a career spanning almost six decades, Tom Jones is one of the most celebrated living artists and has achieved many accolades over the years including a BRIT Award for Outstanding Contribution to Music, a Silver Clef Award for Lifetime Achievement and even a knighthood from Her Majesty the Queen in 2006 for "services to music".
Most recently, Tom enjoyed a successful stint as one of the four coaches on the BBC television show The Voice between 2012 to 2015. Expect to hear his repertoire of smash hits including: "Delilah", "It's Not Unusual", "What's New Pussycat" and "Sex Bomb" to name just a few.
International Festival for Business 2016
Exhibition Centre Liverpool
Monday 13th June – Friday 1st July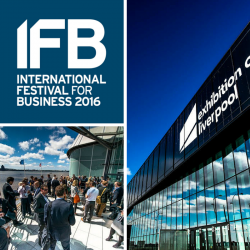 Quite possibly the biggest exhibition to take place in Liverpool all year, the International Festival for Business is a global marketplace for making connections and doing deals. It is a three week long platform that will bring together thousands of business from around the world to take part in an array of specialist events, business networking and deal-making.
Delivered by Liverpool Vision in partnership with UK Trade & Investment, International Festival for Business is the next step for UK businesses that are motivated to grow or trade overseas, as well as for international companies that want to expand business into Britain.
After the successful launch of International Festival for Business in 2014, which resulted in a staggering £280 million of trade and investment deals completed, IFB2016 promises to increase upon the previous festival's successes, combine diversity with focus and business conferences and seminars with challenging and inspiration content.
Starting on Monday 13th June at Exhibition Centre Liverpool with events and networking opportunities taking place right through until Friday 1st July, IFB2016 is predicted to welcome more than 100 delegations from 36 different countries to Liverpool, with countries such as China, India and the US having a significant presence at the event with 80 core events and conferences to take place over the three weeks.
If you are a business traveler, than International Festival of Business simply has to be your next destination!
Elton John
Liverpool Echo Arena
Tuesday 14th June
The second of four legendary singers who will be playing Liverpool in June, Elton John will be live at the Liverpool Echo Arena in June for his first show in the city for 8 years!
The pianist and sing-songwriter is one of Britain's most treasured musical talents with a five decade career and countless hit singles. One of the best selling music artists in the world, Elton has received five Grammy Awards, five Brit Awards, an Academy Award, a Golden Globe Award, a Disney Legend Award, the Kennedy Centre Honours Award and a knighthood in 1998.
As part of his "Wonderful Crazy Night" tour which coincides with the release of his latest album at the start of the year, Elton is sure to be put on an fabulous show featuring new material and a host of old favourites including the classics; "Your Song", "Tiny Dancer", "Can You Feel The Love Tonight", "Rocket Man" and "I'm Still Standing".
WWE Presents NXT Live
Liverpool Echo Arena
Wednesday 15th June
For the first time ever, WWE will bring it's acclaimed developmental division NXT live to a Liverpool audience!
As part of a full UK tour, NXT superstars will be live at Liverpool Echo Arena for an explosive night of wrestling including some of the most talked about wrestlers in WWE such as Finn Bálor, Shinsuke Nakamura, Bayley and Samoa Joe.
Quickly becoming a favourite among die-hard wrestling fans, NXT Live events are gathering as much buzz as their televised counterpart. From high quality wrestling matches to kickstarting a women's revolution, NXT is arguably the most significant wrestling brand today and NXT Live is sure to be a great night of fun when the tour comes to Liverpool.
This is a must attend event for any wrestling fan!
Liverpool Hope University International Tennis Tournament
Liverpool Cricket Club
Thursday 16th – Sunday 19th June
Returning for an impressive 15th edition this June is Liverpool Hope University International Tennis Tournament; the longest running and largest tennis exhibition in Europe.
Held once again at Liverpool Cricket Club in Aigburth, this highly entertaining tournament brings together some of the biggest names in WTA/ATP tennis alongside up and coming players in a highly entertaining tournament pitting youth against experience. This year's legends include: Mansour Bahrami, Barry Cowan, Michael Jeremy Bates, Peter McNamara, Jan-Michael Gambill and Xavier Malisse. Notable previous champions at past tournaments include Caroline Wozniacki (2006 & 2002 – Womens) and Greg Rusedski (2012 – Legends).
The event is organised by Northern Vision in conjunction with Liverpool City Council and since it's formation in 2002, it has become the region's leading sports event.
Taking place just before the start of Wimbeldon, Liverpool International Tennis Tournament will surely warm you up before the rest of the world gets Wimbeldon-fever!
Liverpool Craft Beer Expo
Constellations, Liverpool
Thursday 16th – Sunday 19th June
Back for a fourth year, Liverpool Craft Beer Expo is a modern craft beer festival that will feature a new wave of ground-breaking and innovative breweries from around the world.
Taking place at Constellations in the Baltic Triangle, the Expo will boast over 300 beers on both keg and cask, spread across multiple bars and over a 100 beer taps. The breweries and beers on show have all been handpicked especially for the show ensuring that only the very best beer will be drank across the four day event.
Ticket prices include: entry to the festival, a detailed festival programme, beer tokens towards your first drink and your very own branded glass.
Whether your a beer connoisseur or simply looking for a fun day (or evening) with friends, Liverpool Craft Beer Expo will definitely be to your taste.
Mersey Ferries Summer Evening River Cruises
Liverpool Waterfront
Thursday 16th & Sunday 26th June
It's the ferry 'cross the Mersey we all know and love, with a nocturnal makeover!
The popular Summer Evening River Cruises return for 2016 beginning with the first voyage of the year on Thursday 16th June with a second taking place Sunday 26th June.
The cruises will continue with dates in July and then conclude with the final cruise of the year on Sunday 28th August.
Enjoy live music, a licenced bar and spectacular night time views of Liverpool's historic waterfront all on board our iconic Mersey Ferries. There is nothing quite like the Liverpool Skyline in the moonlight.
Barry Manilow
Liverpool Echo Arena
Friday 17th June
American singer-songwriter Barry Manilow is embarking on his "One Last Time" Tour, with the promise that these will be his final ever live dates in the UK!
Coming to Liverpool live at the Echo Arena in June, Manilow will be good company as he's bringing his full band of 13 musicians and singer along with him for the ride.
Having sold more than 80 million records worldwide, performing over a whopping 400 concerts at the Las Vegas Hilton and Paris Las Vegas from 2005 to 2011, one of music's legends is calling it time on his career and now is your last chance to see him in Liverpool.
Dont miss Barry Manilow this June as he belts through the old classics one last time including favourites: "Mandy" and "Copacabana".
Africa Oyé
Sefton Park, Liverpool
Saturday 18th – Sunday 19th June
Africa Oyé is the largest free celebration of African and Caribbean music in the UK, which takes place annually right here in Liverpool.
Once again taking up residence in it's Sefton Park home, it began in 1992 as a series of small gigs within the city centre and has since evolved into one of Liverpool's most celebrated cultural events of the year. Africa Oyé highlights the wonderful range of cultures, music, artists and cuisine that makes the continent one of the world's most inspiring.
The festival is a showcase of both new and established African and Caribbean artists, as well as celebrating different aspects of the same cultures. The music featured at the festival ranges from South America and The Caribbean with Salsa, Soca and Reggae which have proved to be popular additions to the weekends festivities. In the past, the festival has provided UK debuts to artists such as Tinariwen and Ba Cissoko. Artists featured in the 2016 edition include, Pat Thomas & Kwashibu Area Band, Mbongwana Star, Sona Jobarteh and Randy Valentine.
In addition to the music, Africa Oyé also features over 60 stalls selling the best food, drink, arts, crafts and fashion from Africa and beyond. Long time supporter of the festival, "News From Nowhere", who are one of the UK's premier stockists of African Music will be selling merchandise from the festivals featured artists and much more.
This is one of the month's most anticipated events and we can't wait until Africa Oyé graces Liverpool once again!
American Idiot: The Musical
Liverpool Empire Theatre
Tuesday 21st – Saturday 25th June
Green Day's award winning musical American Idiot will be heading to Liverpool as part of an inaugural UK tour.
Winner of two Tony Awards and the 2010 Grammy Award for Best Musical Show, American Idiot is a sung-through stage adaption of the punk rock band's rock opera American Idiot as well as incorporating other songs from the band's discography. Co-written by Michael Meyer and Green Day front man Billie Joe Armstrong, American Idiot tells the story of three boyhood friends searching for meaning in a post 9-11 world.
Double platinum selling artist Newton Faulkner will be joining the cast, playing the role of Johnny. He will also joined by X Factor finalist Amelia Lily among others returning cast members reprising their critically acclaimed roles.
This thrilling musical has been a smash hit in the US, not just impressing Green Day fans but for theatergoers in general, who have been introduced to the bands music through the musical.
Burt Bacharach
Liverpool Philharmonic Hall
Wednesday 29th June
The legendary Burt Bacharach is bringing his full band and orchestra for a highly anticipated concert in Liverpool this June at the Philarmonic Hall.
With an impressive six decade career that has seen Burt; win eight Grammy Awards, record nine Number One songs, scoop three Academy Awards and achieve 48 Top 10 Hits, it's no surprise that he his regarded as one of the most influential singer-songwriters and composers of all time.
At the young age of 88, he continues to woo audiences around the world including a memorable performance at last year's Glastonbury festival.
Base Serviced Apartments are taking enquiries for all city centre locations in Liverpool (and Chester) during June, however these are strictly subject to availability.
To make an enquiry; call our reservations team on 0151 702 9222, email reservations@baseservicedapartments.com or simply check for availability on our website. 
We are the real alternative to hotel living.