There are so many things that make Liverpool the beautiful city that it is, and street art is becoming a growing part of this. Not only do they brighten up dull walls, they also make for the perfect Instagram snap!
For art-lovers, gone are the times when the only place to see spectacular pieces of art work is in the Tate or The Walker Art Gallery – why go indoors when there are galleries painted on the walls of the city centre?
With new murals and graffiti appearing each day in Liverpool, it's hard to keep up! We've put together some of our favourite and most Instagram worthy street art currently in the city. If you're planning an Insta Graffiti Crawl – we've even included how far they are from Base Serviced Apartments.
If you spot any murals we've missed during your #staywithBASE, make sure you tag us at @baseapartments!
1. Stephen Hawking by French artist Akse. (12 Minute Walk from Base Duke Street)
Located on Parliament Street, this inspirational mural dedicated to Stephen Hawking was part of Liverpool's Contrast Mural Festival.
2. Liver Bird Mural by Graffiti Legend Inkie Graffiti. (5 Minute Walk from Base Duke Street)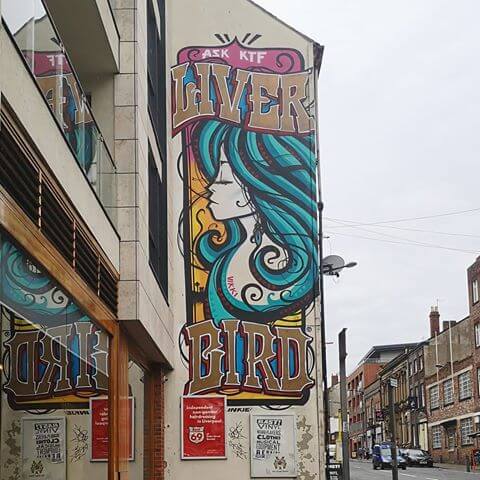 More street art from the Contrast Mural Festival is the stunning 'Liver Bird'. The funky bright piece is one of Liverpool's newest additions and can be spotted on Duke Street next to The Brunch Club.
3. Michael Jackson Moonwalker Mural by Paul Curtis. (1 Minute Walk from Base Duke Street)
Try not to moonwalk past this piece! This unique piece of art is influenced by (you guessed it), Michael Jackson's Smooth Criminal video. The artwork is a tribute to the late performer's amazing dance moves, in particular – that moonwalk.
4. Avocado is Bae at Love Thy Neighbour Restaurant. (3 Minute Walk from Base Duke Street)
Just a stroll around the corner on the side of Love Thy Neighbour Restaurant, is the ever so millennial statement 'Avocado Is Bae'. The most instagrammed food featured on an instagrammable piece of art. It couldn't get more millennial if it tried.
5. Mexican Inspired Design at La Parrilla Restaurant and Bar by Haka Graffiti. (4 Minute Walk from Base Duke Street)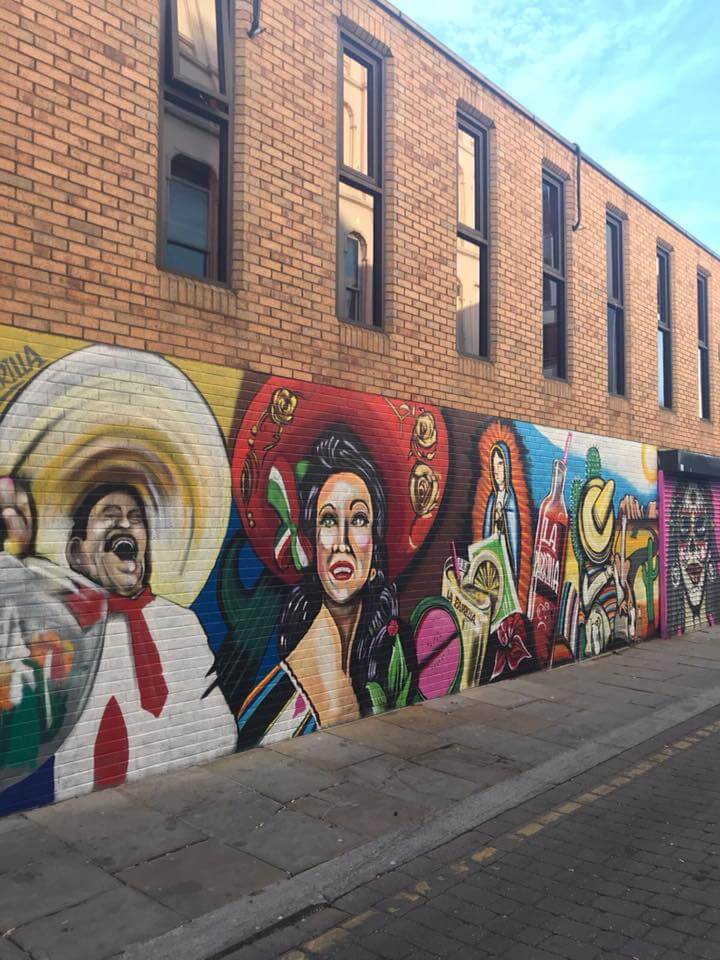 This bright, detailed design can be found just off Bold Street at the side of La Parrilla Mexican Bar & Grill, and makes for the perfect Insta snap. Look out for the Mariachi singer standing out front!
6. Latin Themed Mural at Alma De Cuba Restaurant and Bar. (3 Minute Walk from Base Duke Street)
Continuing down the route of Latin American themed street art, check out this rustic piece in the beer garden of Alma De Cuba. Snap a selfie and enjoy a cocktail in the sun under the bright walls.
7. The Banksy Style Mural on Jamaica Street. (9 Minute Walk from Base Duke Street)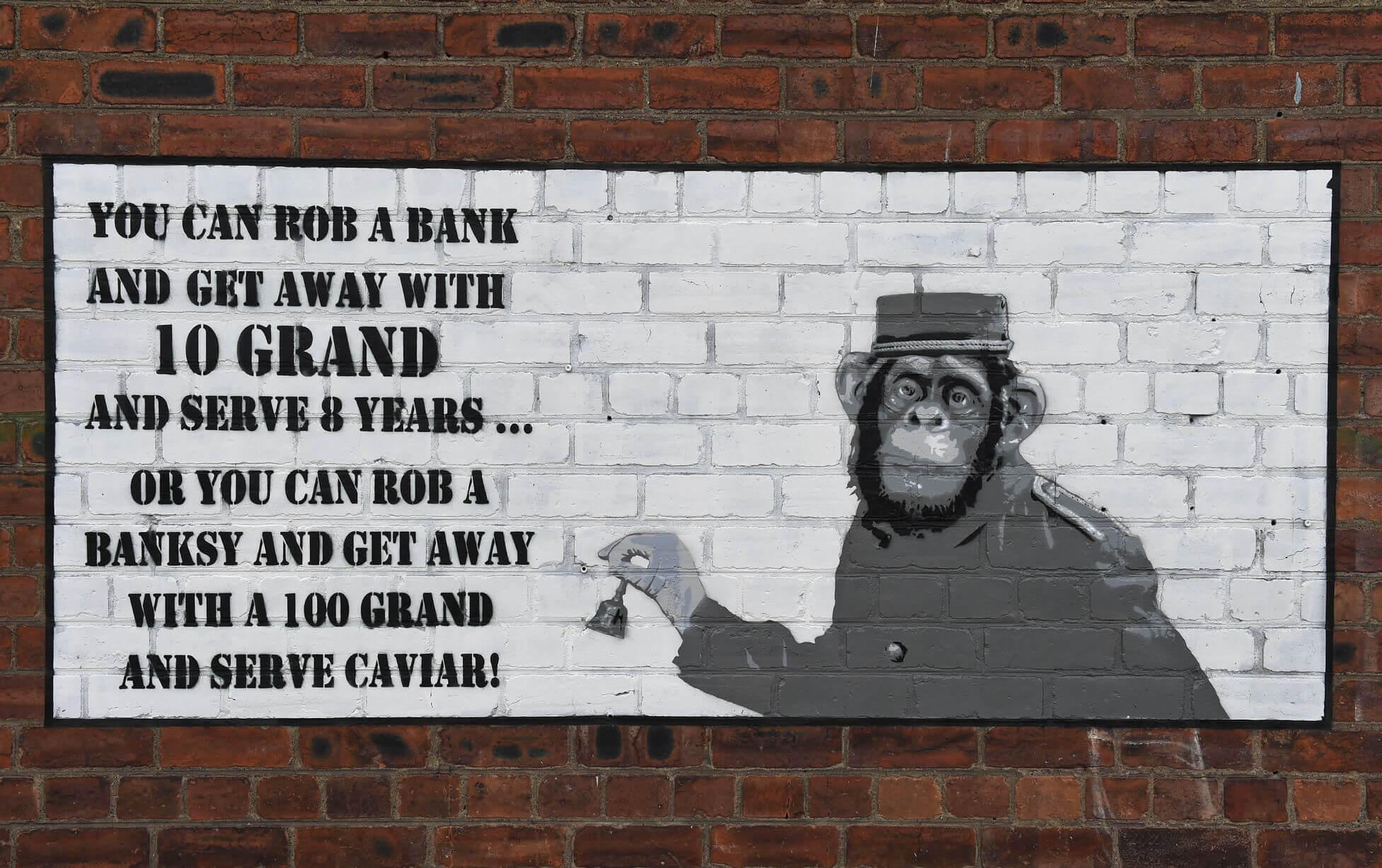 A little on the controversial side, this Banksy style piece makes a dig at the number of original Banksys that were removed around Liverpool and sold to private collections. Many believe that the street art could have been created by the anonymous artist himself. Who knows!
8. For All Liverpool's Liver Birds by Paul Curtis on Jamaica Street. (9 Minute Walk from Base Duke Street)
Another piece and probably his most famous, are the interactive Liver Bird Wings by Liverpool born artist Paul Curtis. Paul's piece hit off a few years back and has since attracted 1000's of visitors and even made the national press.
9. Large Piece at Santa Chupito's by Elphone. (3 Minute Walk from Base Duke Street)
Street artist Elphone created this vast piece as part of Contrast Mural Festival. The intriguing mural stands out on the corner of Santa Chupito's restaurant.
Base Tip: Head inside Santa Chupito's and try one of their famous $5 Shake cocktails. You'll thank us later.
10. Four lads from Liverpool Beatles Tribute at Stanley Dock. (25 Minute Walk from Base Cumberland Street)
A little further afield (if you fancy a bit of a walk) at Stanley Dock is this giant homage to The Beatles 'Four Lads from Liverpool'. The vivid image shows the band members against a colourful backdrop.
11. The Lady on the Tempest Building, Tithebarn Street. (4 Minute Walk from Base Cumberland Street)
This mammoth mural, created by an all-female crew, symbolises the struggles and growth of start-ups in the city. It took over two weeks to complete and can be found at HUS bar on the same street as the Super Lambanana – If you don't know what this is, look it up.
12. Rude Kids by Dot Masters, Various locations in Liverpool. (1 Minute Walk from Base Duke Street on Parr Street)
The Banksy style artist has created a series of #rudekids that are out and about mucking around in Liverpool. Spot them all opposite the Royal Hospital and look out for one of them hanging out on the corner of Parr Street.
Planning a trip to Liverpool? Find out which Base Apartments location is best for you here.