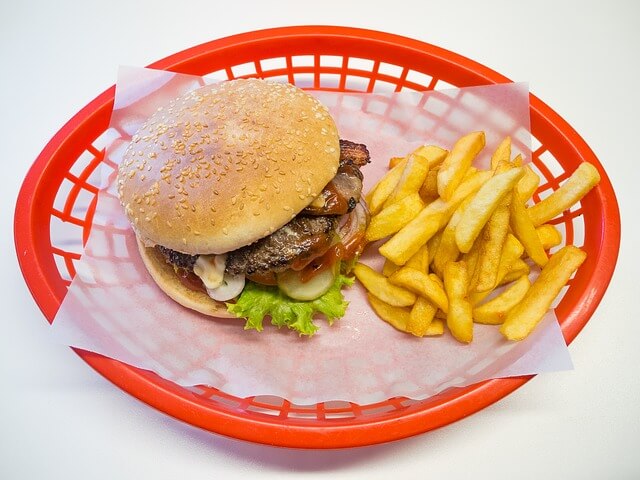 Craving for Liverpool's best hamburgers?
Today we bring you 20 different places so you can make your decision, sit back and rejoice; you have never had it so good.
Don't like beef? Don't worry we are also including lamb, pork and even vegetarian choices!
1. Almost Famous
If super-sizing burgers is what you like, get ready for the "Buffalo Beach Club", it comes with double beef burger, cheese, streaky bacon, crispy buffalo fried chicken, slaw, pickles & blue cheese dressing.
It's actually one of their new top sellers now and is packed full of flavours that get them taste buds zingin' and tinglin'
Go hard or go home!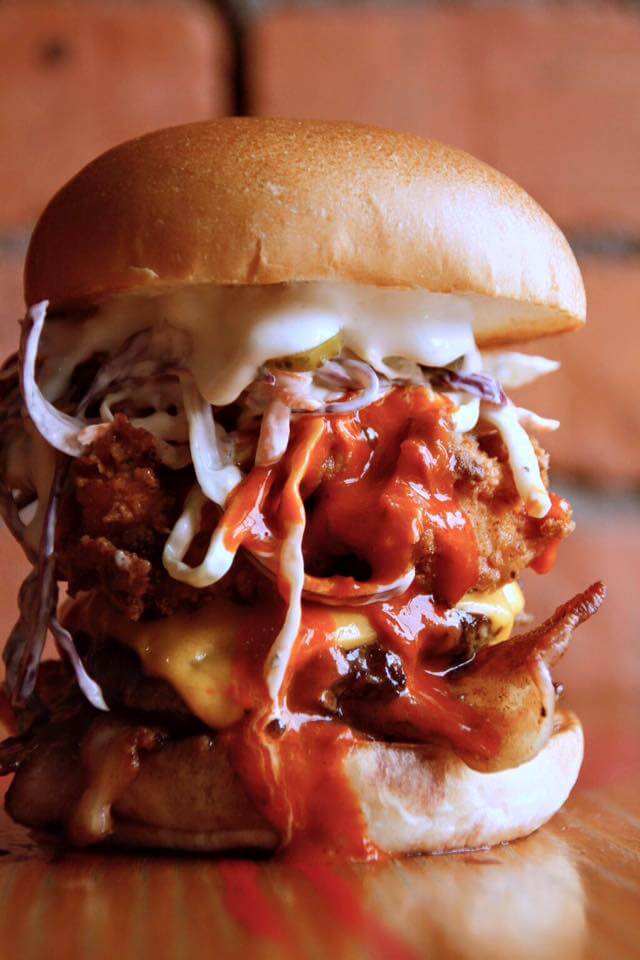 Price: £8 – £10.50
Web: http://almostfamousburgers.com/
Location: 11-13 Parr St, Liverpool, L1 4JN
2. Byron
A great option if you are around Liverpool One is Byron.
Their B-Rex started being a special but after people loved it, it was made a permanent part of the menu.
See it by yourself: a hamburger patty with onion rings, two slices of American cheese, smoked bacon, sliced pickles, jalapeños, BBQ sauce and mayonnaise.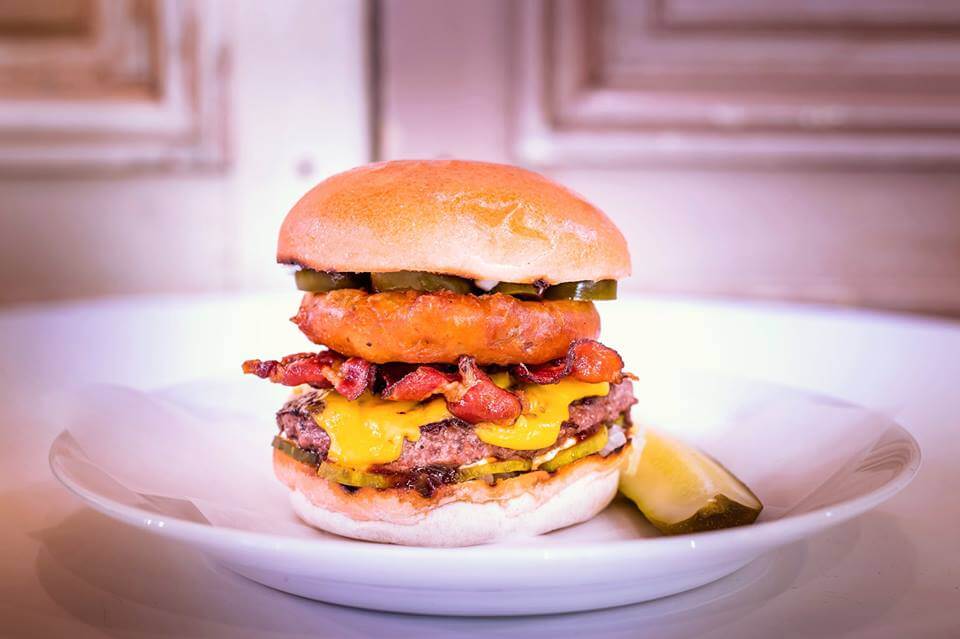 Now that's what I call a full pack.
Price:  £6.75 – £12.50
Web: https://www.byronhamburgers.com/
Location: 43 Paradise St, Liverpool L1 3EU
3. Arts Club
Arts Club Mexican burger comes with chilli, cheese, jalapeños & crushed nachos.
Yummy.
Price:  £6 – £8
Web: https://artsclubliverpool.com/
Location: 90 Seel St, Liverpool, Merseyside L1 4BH
4. City Wine Bar & Kitchen
Another example of the supersize burgers we were mentioning before.
What do you think?
Price:  £8.50 – £11.50
Web: http://www.citywinebar.net/
Location: 21-23 Old Hall St, Liverpool, Merseyside L3 9BS
5. Delkery
Would you like to build your own burger?
Feel free to choose your patty, your choice of cheese, 3 toppings and size order.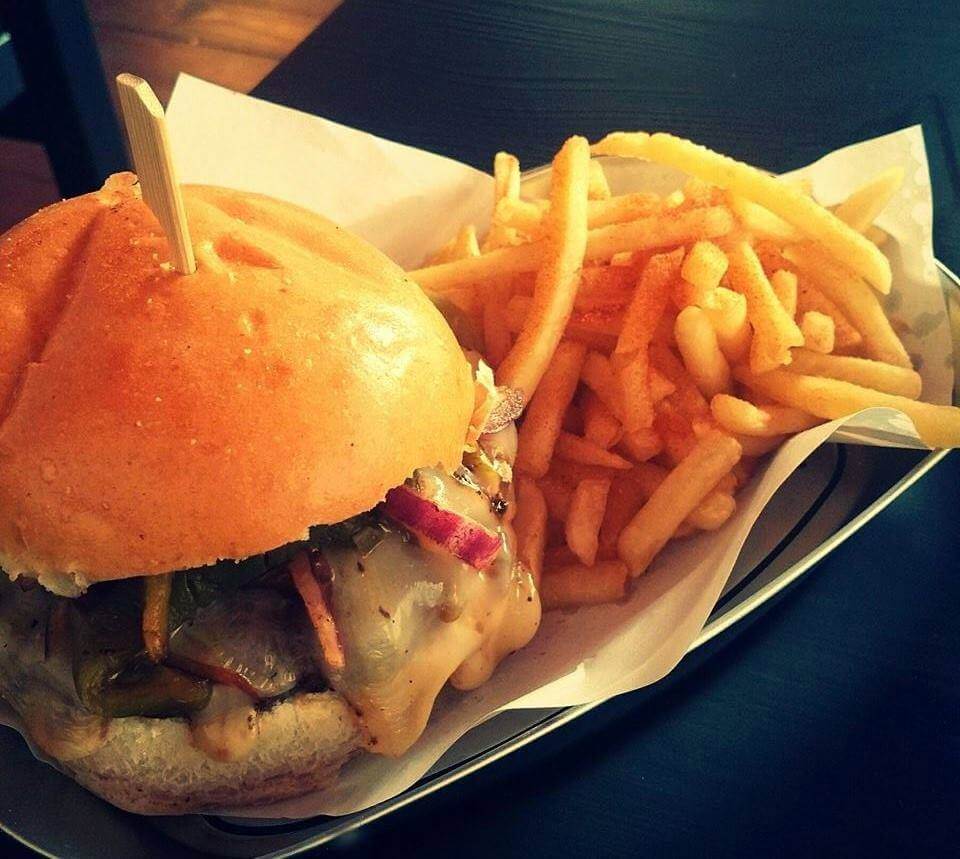 Price:  £6.95
Location: 98 Dale St, Liverpool, Merseyside L2 5TF
6. Manzo
This Italian grill-house offer 5 different homemade burgers. Their range includes beef, pulled pork, garlic rosemary lamb and a veggie option (milk kissed aubergine burger)
I'm getting hungry already.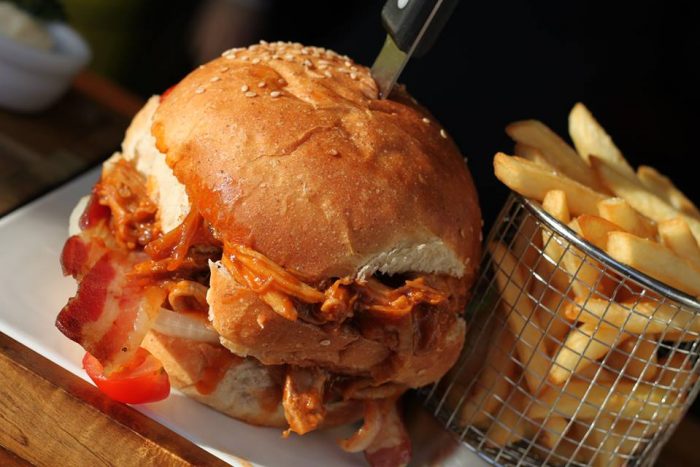 Price:  £12.95 – £14.95
Location: Kenyon's Steps, Liverpool, Merseyside L1 3DF
7. The Bastion Shankly Hotel
This burger comes with a brioche bun, bacon mature cheddar cheese, pickles and lettuce. As a companion some hand-cut chips and relish.
Nothing to add.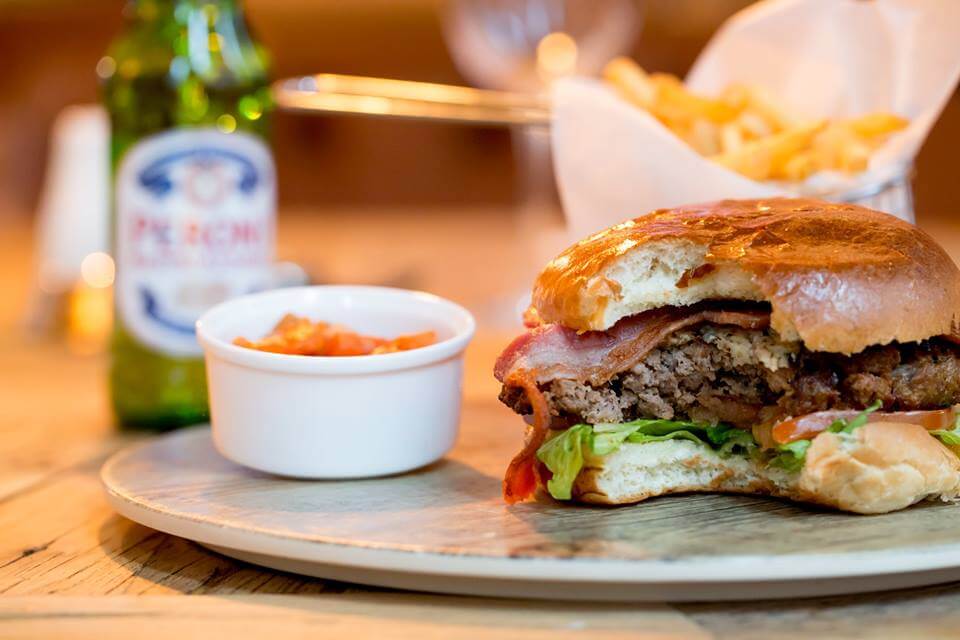 Price:  £12 – £14.50
Web: http://shanklyhotel.com/
Location: 60 Victoria St, Liverpool, Merseyside L1 6DN
8. Hickory's
Did you know this place was recently voted on the "Top 5 Burgers in the UK"?
No wonder why, the "Hickory´s Smokehouse Legendary XXL Roadhouse Burger" comes with 2 beef burger patties, smoked bacon, southern style barbecue pulled pork, Cajun onion rings, American cheese..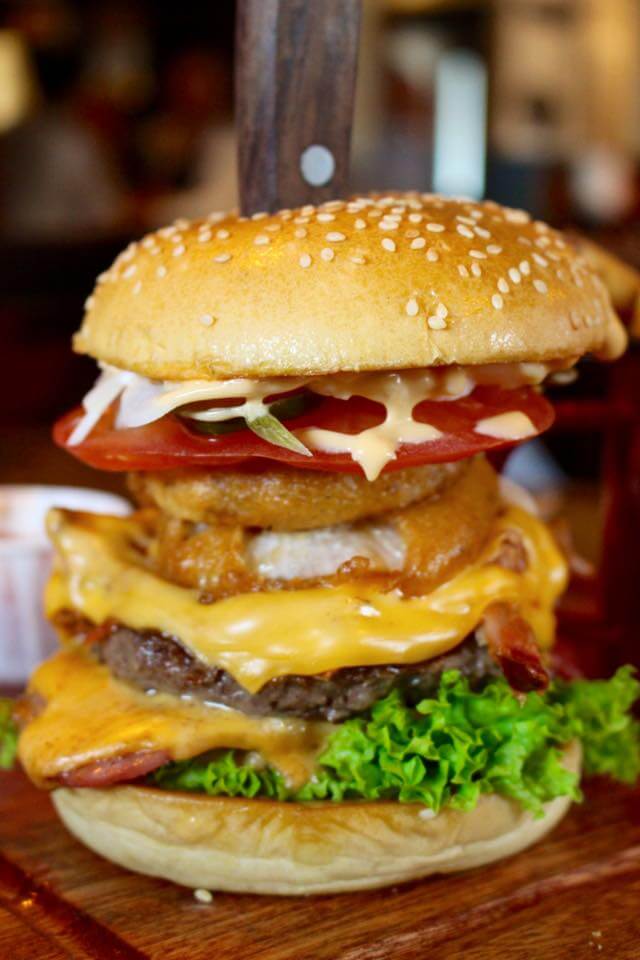 Need I say more?
Price:  £10 – £13.95
Location: 60 Victoria St, Liverpool, Merseyside L1 6DN
9. The Refreshment Rooms
It may not be easy to find, but near Rock Ferry you´ll see this great restaurant.
They have an excellent vegetarian option with salad and fries.
Simply irresistible
Price:  £9.50 – £9.95
Web: http://refreshmentrooms.info/
Location: Bedford Rd E, Birkenhead, Wirral, Merseyside CH42 1LS
10. Rack & Dollar
Another great venue if you'd like to build your own burger is Rack & Dollar, have a look at how simple it is to design your own delicatessen: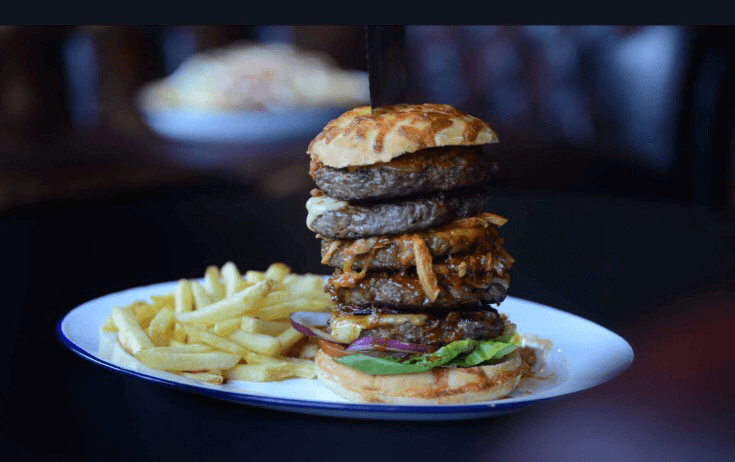 This could be your burger, how about that?
Price: As advertised online.
Web: https://www.facebook.com/Rackanddollar
Location: 15-19 Berry St, Liverpool, Merseyside L1 9DF
11. Nolita Cantina
One of Bold Street indispensable, Nolita Cantina has a great range of burgers and as you can see in the pictures they look pretty intimidating!
Mixing regular with sweet potatoes, their fries are just from another world.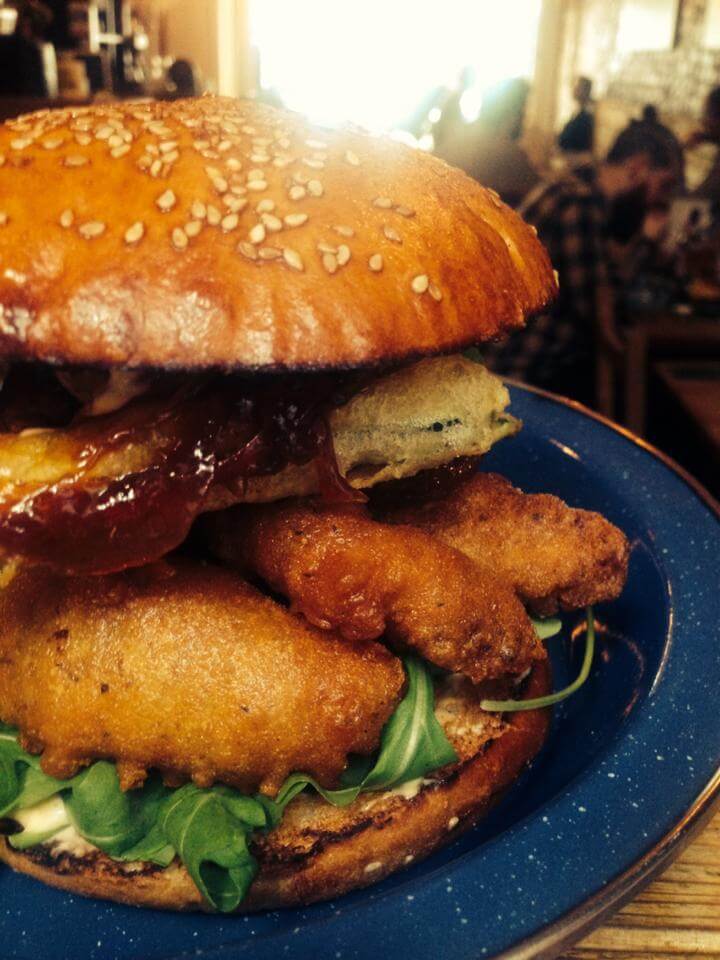 Price:  £9.5 – £15
Web: http://www.nolitacantina.com/
Location: 81 Bold St, Liverpool, Merseyside, Liverpool L1 4HF
12. Death Row Dive & Dinner
If you are in a rush and rather to take dinner home, this is your choice.
They are specialist in ribs, burgers, french fries, fried shrimp and steaks.
Their crown jewel is called "Burning Love" and it comes with a double burger, cheese, onion rings, bacon, pickles, slaw and a bourbon sauce that will leave you speechless.
Not enough? On top of that they stuck a Chupa Chups!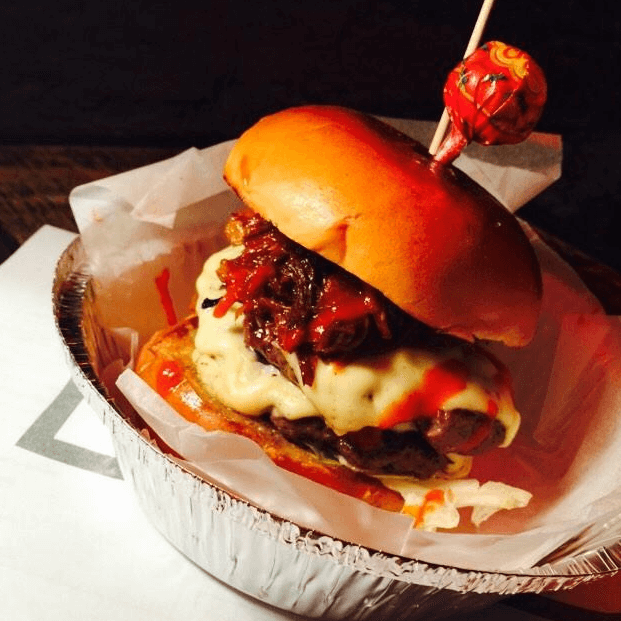 "Huevos rancheros" is another example of this great restaurant.
2 beef patties, fried egg, pastrami cheese, lettuce and hot sauce.
Price:  £7 – £13
Web: http://www.deathrowdiveanddiner.com/
Location: 2 Hope St, Liverpool, Merseyside L1 9BX
13. The Smugglers Cove
Their classic burger is just amazing.
Your choice of chicken or lamb burger with lettuce, gherkin and tomato.
If you would like to go further, add extra bacon, cheese or blue cheese for just 1.25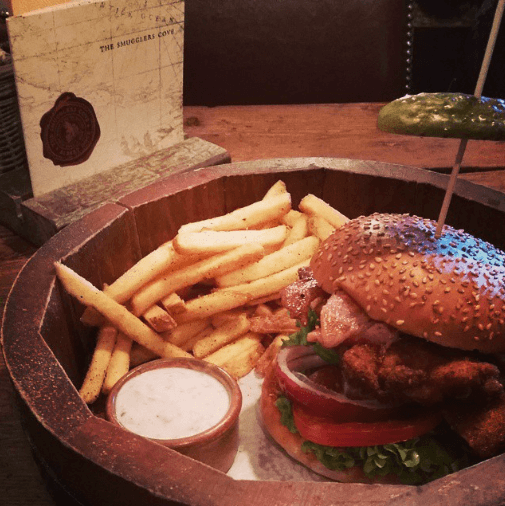 Price:  £9.95 – £14.95
Web: http://thesmugglerscove.uk.com/
Location: Albert Dock, Liverpool, Merseyside L3 4AD
14. Free State Kitchen
Inspired by the American dream, these guys add their twist to burgers.
Buns smothered in peanut butter and topped with a fried egg.
How about that?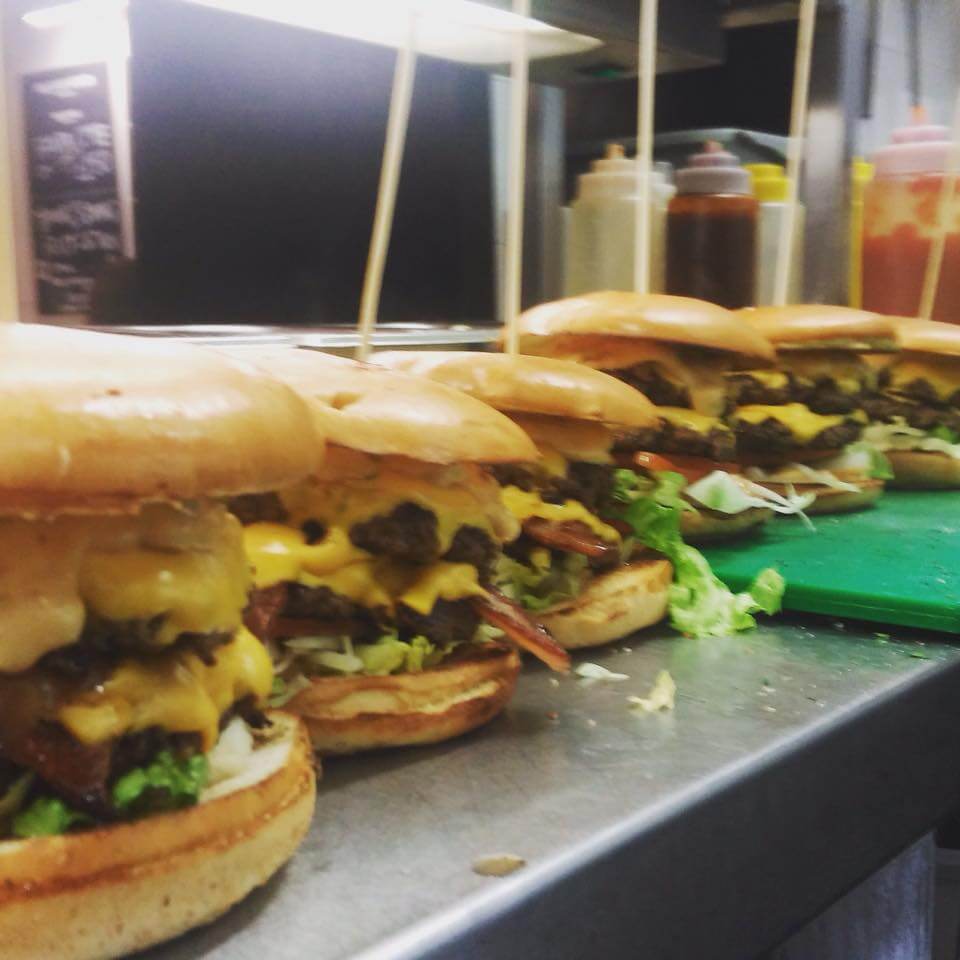 Their double French onion burger with French mustard, white onions and garlic will make you want to go back.
Guaranteed!
The "Double Deluxe" isn't far behind, double beef, double cheese, brioche bun, lettuce, tomato, onion and their secret sauce.
Price:  £7.75 – £11.25
Web: http://freestatekitchen.co.uk/
Location: 1 Maryland St, Liverpool L1 9DE
15. Portland Street 358
We haven´t entered the spicy world yet, so how about a "Holy Moe"?
Two patties, garlic cream, beef chilli guacamole and crisp tortillas.
Tempting huh?
Price:  £7 – £9
Web: http://www.portlandst.co.uk/
Location: Portland St. 358 Smithdown Road, Liverpool
16. Gourmet Burger Kitchen
Who said onion rings will never be popular in burgers?
"The Taxi Driver" comes with: American cheese, Cajun relish, onion rings, smoked chilli mayo, salad, pickle and brioche bun.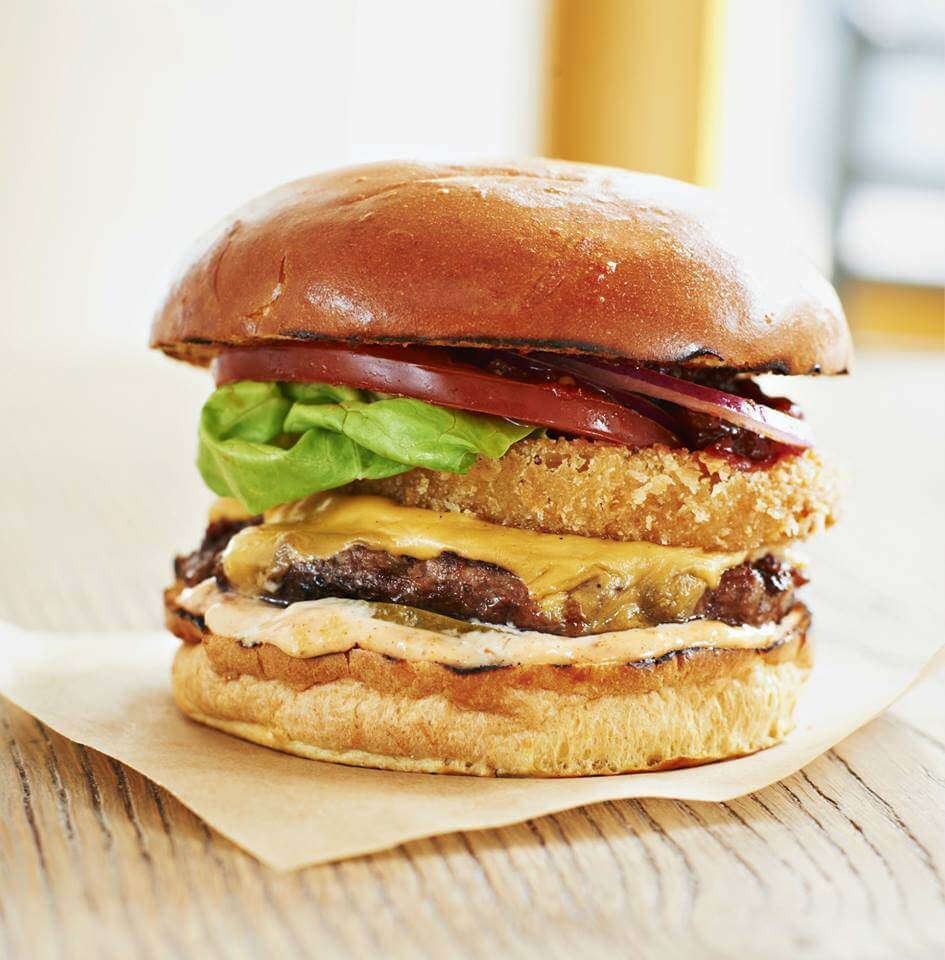 If duck is what you are looking for, go for the "Duck Confit Burger"
Confit duck teamed with a duck liver paté, topped with cheddar cheese, crispy shallots, rocket and a ginger and apricot chilli jam.
Price:  £6.85 – £18.95
Location: 14 Paradise St, Liverpool, Merseyside L1 8JF
17. Button Street Smokehouse
We've shown you by now, lot of places with huge burgers that don't even fit your mouth, but how about miniatures these time?
Yes, I'm talking about burgers that make you feel like a giant.
But don't worry, in case you are looking for the big juicy burger you are also covered.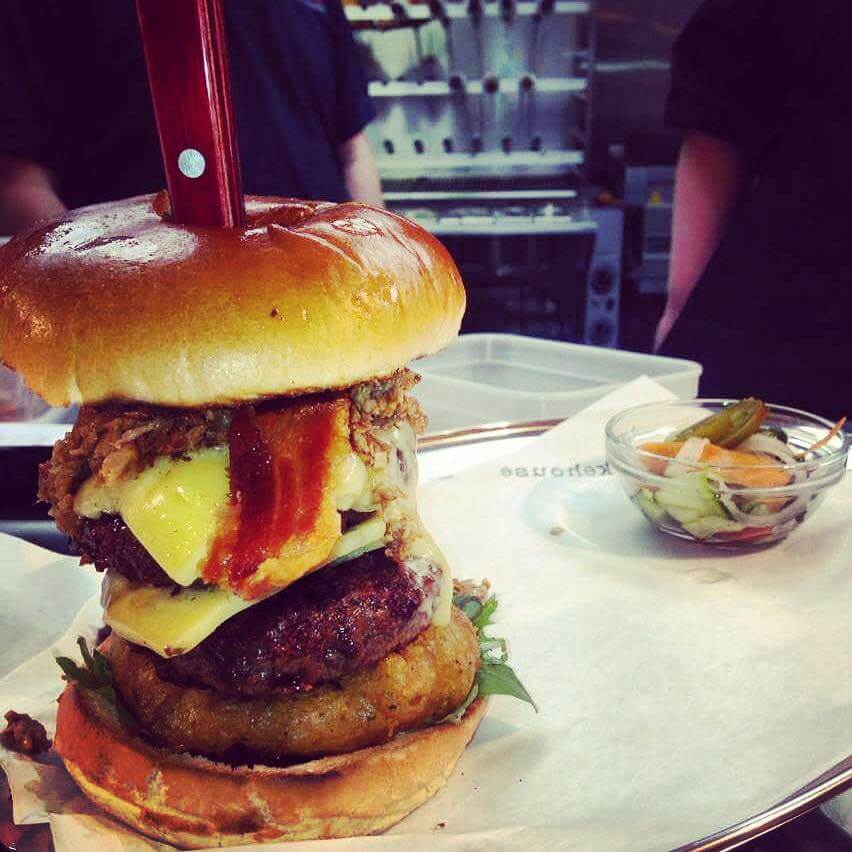 Price:  £9 – £13
Web: http://buttonstreetsmokehouse.com/
Location: Baker House, Button St, Liverpool, Merseyside L2 6PT
18. Moon & Pea
I've got I say that you are a hero if you've made this far!
I'm so hungry already!
This legendary restaurant, café and meeting space offers some really great homemade food.
Another choice for our vegetarian readers, this one consists of Cajun veggie burger with halloumi and tomato chutney.
What's not to like?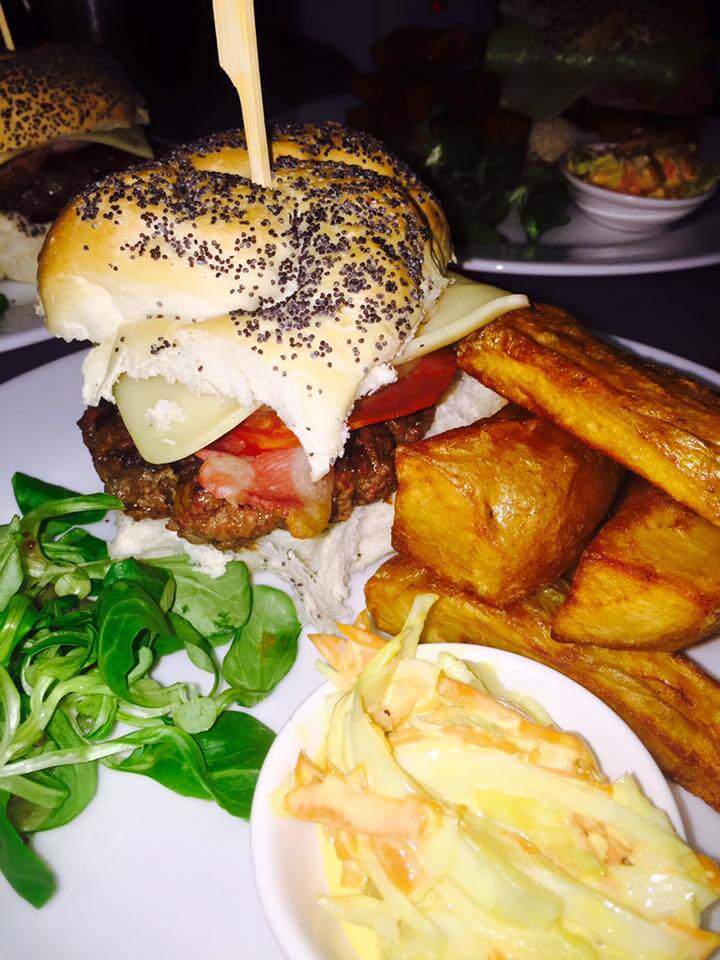 Don´t worry if you're a beef lover, there are options for you as well.
Price:  £8.95
Web: http://www.themoonandpea.co.uk/
Location: 95 Lark Lane, Sefton Park, Liverpool, Merseyside L17 8UP
19. Revolution Liverpool Albert Dock
Try their "Fizz Bomb Burger"
Delicious!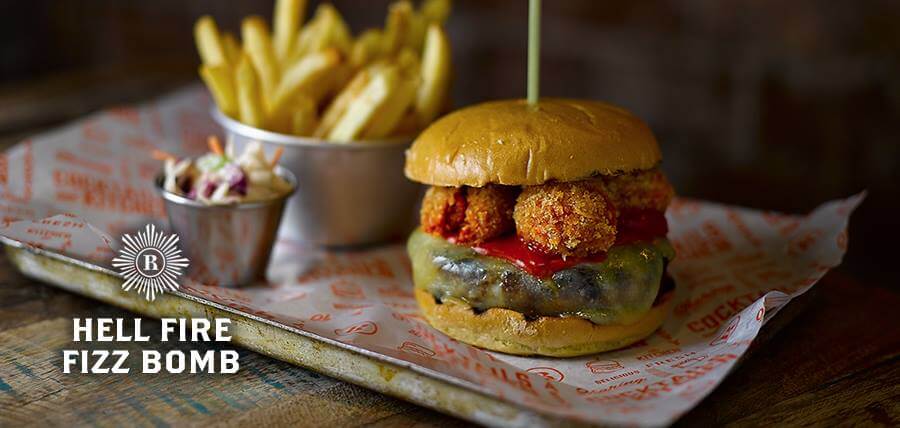 Price:  £9.95 – £13.50
Web: http://www.revolution-bars.co.uk/bar/liverpool-albert-dock/
Location: Unit 4M Atlantic Pavilion Albert Dock, L3 4AE
20.  The Shipping Forecast
Last, but not least, we also wanted to mention this great Liverpool´s city centre place which offers a huge variety of different meat burgers, beef, chicken, vegetarian and even fish!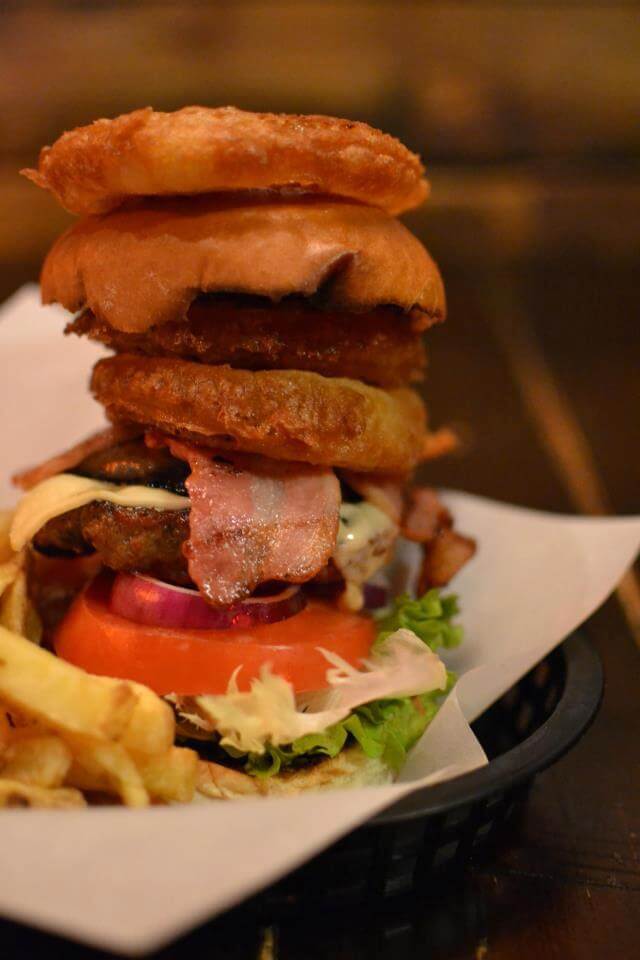 Price:  £5.75 – £10.75
Web: https://www.theshippingforecastliverpool.com/
Location: 15 Slater Street, Liverpool, Merseyside, L1 4BW
Now that we've shown you what we think are Liverpool's best hamburgers, it's your turn to decide.
Please tell us which ones are your favorites! We'd love to know!
Base Serviced Apartments offer an unrivaled service for those looking to stay in a fabulously contemporary yet homely property, within spectacular city environments.
Choose from our range of one, two and three bedroom properties within the heart of Liverpool. All apartments are fully-furnished and fully-equipped providing you with your own environment to entertain guests or simply to switch off and unwind.
We are the real alternative to hotel living!
Book your next getaway with us now! For families, we would recommend our Duke Street and The Docks apartments. For leisure breaks, we would advise looking at our Sir Thomas Street or Cumberland Street apartments.