Whether you're a globetrotter who has accumulated thousands of Frequent Flier Miles, or someone who plans the occasional vacation to a far off land, you are probably going to encounter the phenomenon of "jet lag," which can significantly affect your sleep and alertness. Jet lag refers to upset sleep patterns, faintness and disorientation caused by lengthy travelling. It occurs when you normal body clock is upset by travelling through several time zones.

So after crossing the Atlantic, your body wants to party when you tell it to sleep and sleep when you tell it to enjoy a museum. Too many people believe their first day or the first few days will be rendered worthless by jet lag. But there's no need to prematurely condemn yourself to zombie-dom. Here's a few helpful tricks and tips to make the best of your trip:
Pre-flight:
Leave home well rested:
Flying half-way around the world is taxing, even if all you do is sit in a seat. A hectic last night before departure can leave you drained and while you may catch up on sleep mid-flight, it's not the same as a good-night sleep. So get done with your goodbyes and your packing a couple days prior and save the last day for a pre=travel rest.
Adjust your sleep routine:
While this may not be advisable for shorter trips, it is pretty much a must for longer stays. You are going to have to get used to a new sleep routine when you arrive at your destination, unless you want to waste away your days in bed. So why not get a head start and slowly adjust your sleep routine by sleeping early and getting up early or vice versa, before you leave home.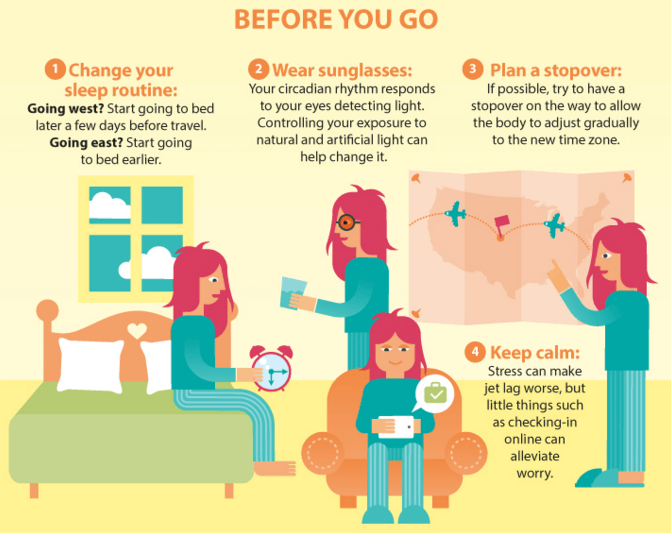 Enroute
Keep hydrated:
While it may not seem like much, ensuring plenty to drink can do wonders for the body, keeping it energetic and strong. So don't think twice about bothering the flight attendant for that extra drink.
Rest and reset:
If you didn't fix your sleep routine at home, on the plane is a great place to fix it. Change your watch to the destination's time. Take a nap during the in-flight movie, that's really all they're good for. While this won't completely keep you free of your jet-lag, it'll ensure that you're functional the day you land.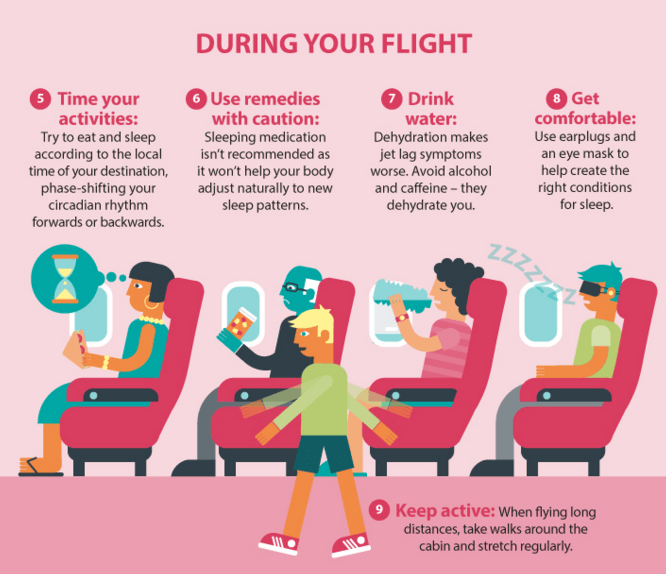 Upon arrival
Stay awake until a local bedtime:
It may be tempting to nap after a long journey. But just DON'T. If you fall asleep at 4.00 p.m and wake up around midnight you have accomplished nothing. Take a walk, go for a swim, visit a museum, but force yourself to stay awake until the  sun down. The first day is crucial to curing a jet lag. Go to bed with the other residents of the region.
Natural Light:
It is suggested that natural light greatly influences your internal clock. So try to get as much sun as possible at least the first few days.
Short trips:
For trips less than 4 days, it is advisable that you make no attempts at getting over your jet-lag. Keep to your original routine, you'll be home soon anyway.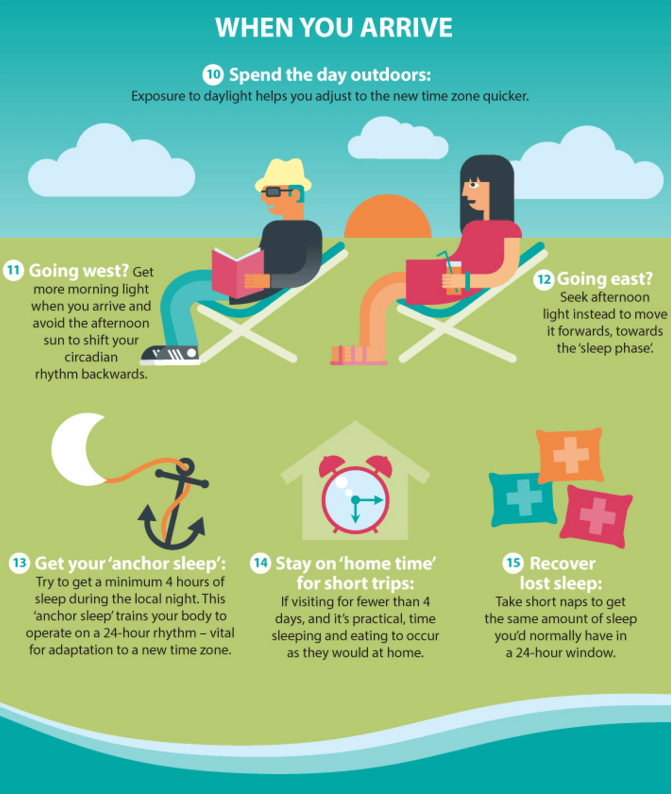 We hope this article will make your future trips livelier. Happy travelling!!!
Base Serviced Apartments offer an unrivaled service for those looking to stay in a fabulously contemporary yet homely property, within spectacular city environments.
Choose from our range of one, two and three bedroom properties within the heart of Liverpool. All apartments are fully-furnished and fully-equipped providing you with your own environment to entertain guests or simply to switch off and unwind.
We are the real alternative to hotel living!
Book your next getaway with us now! For families, we would recommend our Duke Street and The Docks apartments. For leisure breaks, we would advise looking at our Sir Thomas Street or Cumberland Street apartments.